Product Description
There's nothing worse than waking up and feeling extremely sore, with aches and pains all over your body from poor sleeping posture. If this sounds like something you experience regularly, it's time to learn about the Everlasting Comfort Pure Memory Foam Knee Pillow!
This pillow slides right between your knees while you sleep, which helps to keep your back and hips straight, even while you're sleeping on your side. If you frequently wake up with knee, hip, back, or joint pain, it might be because you're sleeping on your side with poor posture. This knee pillow fixes that issue easily, leaving you feeling refreshed and pain-free in the morning.
Additionally, if you're pregnant or experience sciatica pain, this pillow is a must-have! Good sleeping posture is especially important in these instances, and there's never been an easier solution than the Everlasting Comfort Knee Pillow. Let's dive deeper and take a look at the amazing benefits this product offers:
-100% memory foam
This product is made with high-quality memory foam without any additives. This is the same pure memory foam you'd find from the top memory foam manufacturers in the world.
-Removable and adjustable strap
This knee pillow comes with an adjustable strap to help keep the pillow in place while you're sleeping. Simply tighten the strap to your comfort and drift off to sleep. If you would rather not use the strap, it's easily removable!
-Ergonomic design
With a curved ergonomic design, this pillow keeps your knees separated with ideal spacing to support your legs, hips, and back while you sleep. With the orthopedic contour of this pillow, you'll find relief for knee, hip, leg, back, thigh, pelvis, and lumbar pain. It's also an effective treatment for pain from sciatica, arthritis, and bursitis, and is great for pregnant women who sleep on their side.
-Comes with free memory foam earplugs
When you purchase this memory foam knee pillow, you'll get a free bonus gift! Drift into sleep easier than ever before with a free pair of memory foam earplugs that mold perfectly to the shape of your ear to block out any sound in the room while you're sleeping.
-Lifetime replacement guarantee
Everlasting Comfort worked hard to create the perfect knee pillow to provide support while you sleep, and you'll love the result of that hard work. If anything happens to your knee pillow, you can feel confident that it'll be replaced right away with a brand new one, so you'll never be without it.
Don't suffer through a night of tossing and turning through sleep, only to wake up feeling extremely sore all over your body. It's time to take your sleep game to the next level with the Everlasting Comfort Memory Foam Knee Pillow. When you purchase this product, you can say goodbye to joint, back, and hip pain so you can start waking up feeling refreshed and pain-free.
FAQ
Q: I am 5.4 ft, and overweight (255 lbs), and have hip joint pain. Will this product work for me?
A: It should. I am about the same. I use a pillow between knees. It helps a lot.
---
Q: Also, does this pillow's zipper poke you, or does it tuck in and stay out of the way?
A: When I saw the question I had to go look at the pillow find the zipper. the zipper pull is exposed but it is on an outside corner and as yet I have never felt it. Great pillow!
---
Q: Does it hold heat (get hot at night)?
A: Not that I have noticed. I have had mine for about 5 months now, and still love it.
---
Q: How do you wash this ?
A: The cover is zippered and comes off easily for a machine washing. Memory foam cannot be machine washed or dried. So you would need to wash the inside by hand...
User Reviews
Customer Reviews
Write a Review
Ask a Question
08/30/2020
William B.
United States
Great pillow!
I am primarily a side-sleeper and as I get older I noticed that I my legs started to hurt if I slept on one side too long. Decided to try this pillow to see if it would help and it did. I don't feel any soreness or pain in my legs and hips in the morning since I started using it. Highly recommended!
Outstanding product delivering outstanding results!'
This product is outstanding. My knees and backpain during sleep time disappeared And it has a feature that others don't offer. The strap with velcro makes all the difference as it keeps the pillow in place all night long! Excellent benefit for the cost.
08/06/2020
D. Rummerfield
It helped my back w/ herniated L5.
Actually helped my back in the mornings. First night was great pain relief but took some getting used to feel. I've had a herniated L5 for almost 20 years. Mornings I'm stiff and sore. I knew pillows helped my side sleeping but usually too bulky and won't stay in place. This was exactly what I needed. The strap makes the difference as I like to flip sides.
No more pain in the morning!
I am a side sleeper and got up every morning with lower back pain.I attributed it to a variety of reasons- need a new mattress, being flat footed, being a teacher who stands all day, etc.I decided after trying to sleep with a variety of bed pillows with no luck, to try this.It works great!No more waking up hurting and having to take Advil or Tylenol first thing in the morning.My dog Hank is a fan, too.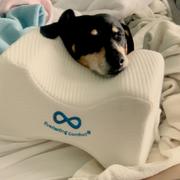 Should have bought years ago. Must buy now!
I suffer from Sciatica, lower back pain and hip pain. If I don't sleep with a pillow between my legs I'm in severe pain the next day. Before ordering this I lost the pillow in the middle of the night. Wow this is amazing and wish I had gotten it years ago. I'm thinking of ordering another one to have at my families house for when I stay there. My lower backPain isn't thereand I move around a lot in my sleep. You barley notice it's there.
Made a world of difference!
After having two kids, my hips **** me when I sleep, as I am a side sleeper.My chiropractor recommended I get a pillow for my legs to help take the pressure off of them. I decided on this one and this little gem is amazing!I love the strap that is attached so you don't have to worry about losing it when you roll over. The removable cover is easy to wash as well. It has made a world of difference in my hips and how I feel when I get out of bed. I even bought my husband one because I know he will benefit from it as well. Great product!
Comfortable knee cushion
Good qualityknee cushion with scrap to secure around leg or knee to hold in place (optional) it performs as a knee cushion should. Soft, if you need something more dense or firm you may want something else Might be nice to have in a darker color, but the white is pretty. I like it.
12/17/2018
Kevin M.
United States
6 foot 3 giant lineman
I am a 6 foot 3 330 pound foreman lineman.I live this pillow, no more big regular pillows for in between my knees.I leave the velcro strap that is comfy as well where it's at and slide if over my foot up to my knee and I wake up with no, zero, nadda, back pain in combination with my Amazon zinus king memory foam bed for 400.Life is good, I've lost 40 pounds since the bed and my knee pillow.Energy level is off the chain.Can't go wrong with this knee pillow unless you don't get one and that's your problem.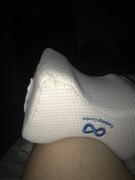 10/23/2018
Sazqwatch
United States
Perfect Cushion for Hip Alignment
The item arrived well package and in perfect condition.It arrived on time as well.The cushion is just the right size.It has a removeable and washable cover.It came with a very useful and comfortable strap to keep the cushion in place on one leg. This allows you to roll over during sleep without the cushion falling to the side.Included was a package of ear plugs.The cushion works great and the ear plugs really keep out the noise.Great product. Highly recommended.
03/11/2018
lemonsquare7
United States
Second Purchase, Good Product!
I just bought a second one of these after being jealous of the one I got my boyfriend. He's got boney knees so he always used to use the comforter to cushion between them, but then he would steal the blankets, etc etc. I'm weirdly picky about things I get off of Amazon and I was worried the strap or the Velcro would get annoying, but the strap is actually super helpful, and the Velcro feels nothing like Velcro at all (you can't even feel the seam where the Velcro starts and the pillow begins) Even then, your legs don't touch that part. It's a nice thickness but still coushins well. Long story short it works great and he uses it all the time! I just tried mine last night and while it didn't fix all my hip problems, I slept better than I have in weeks with it.