Ultrasonic Cool Mist Humidifier 6L
Product Description
Transform your indoor space into a healthy ecosystem with Soothing Cool Mist produced by an Everlasting Comfort® Ultrasonic Cool Mist Humidifier. Filterless, Economical, Sleek, and productive in spaces up to 500 square feet. Doctor and Parent-Recommended for combating Airborne Viruses and Bacteria, Insomnia, Dry Skin, and improving Respiratory Function. 2 Year Replacement Warranty & 30 Day Money-back Guarantee!

FEATURES OVERVIEW:
- Whisper Quiet Ultrasonic Cool Mist Output
- Reduces Airborne Viruses & Bacteria
- Soothes Dry Skin & Sinuses
- Alleviates Asthma, Colds, and Seasonal Allergies
- Filterless. No monthly filter replacements
- 6L Water Storage Tank. Lasts 50+ hours
- ETL Safety Certified. Safe for Nurseries. Automatic Shutoff
- Adjustable Mist Intensity Dial
- Aromatherapy Compatible Humidifier with Essential Oils Tray
- Great for Bedrooms and Living Spaces up to 500 Square Feet

ADDITIONAL DETAILS: Air Humidifiers promote healthy respiratory function, sleep, and stop airborne viruses and bacteria dead in their tracks by increasing indoor humidity levels! Each humidifier is equipped with an Adjustable Mist Intensity Dial that allows you to control the intensity of the mist output - making it an ideal room humidifier for a nursery and a perfect bedroom humidifier for a master bedroom.

Unlike other room humidifiers that require constant refills and expensive filter replacements, an Everlasting Comfort® Humidifier is filterless and it's equipped with a 6L (1.59 Gallon) Water Storage tank that disperses Ultrasonic Cool Mist for 50+ hours!

Find Comfort that's truly Everlasting in our ETL Safety Certification, Filterless Technology, ease of use and truly minimal upkeep that's all backed by our Warranty.

All Everlasting Comfort® products are backed by a 30 Day Money Back Guarantee!

If your product is damaged in transit or has a defect, please allow us to send you a new one at no cost. After all, your Everlasting Comfort® Ultrasonic Cool Mist Humidifier is backed by a 2 Year Warranty!
FAQ
Q: Can I use tap water or does it need to be distilled/demineralized?
A: Yes. Tap water is okay.
---
Q: What is the warranty on this product?
A: Our humidifier comes with a 2 year warranty.
---
Q: Is this a cool mist unit?
A: Yes and it lasts two nights for me, I love it!
---
Q: Can you turn the night light off and still run the cool mist?
A: Yes you can.
User Reviews
Customer Reviews
Write a Review
Ask a Question
03/17/2020
Najdek f.
United States
Ordering two more for other rooms!.
Steam starts right away and even on low setting is powerful! This has been a godsend for my toddler when he gets a cough! I put it on the floor next to his bed as he sleeps and let the steam(cold) go right to his face! He doesn't cough at all!. It's also great for the oil diffuser right now we have peppermint going! I have a large room and living room and it works great for both!.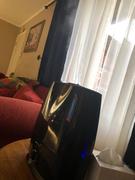 03/09/2020
Purnima
United States
Great little humidifier
This humidifier is very easy to use and hassle free. The unit requires very less cleaning. Nice and quiet so it doesn't interfere with sleep. The mist is very fine and adds the right amount of moisture to a room. The control dial allows you to control the amount of moisture and the size of the drops being put into the air. For the price this unit is better to other units in this category. Overall I am happy with the purchase. We bought this humidifier about year ago for our living room and we liked it so much we decided to buy one for our bedroom too. This one would be nice for a child's room during the winter months, or when they have a cold.
03/07/2020
C. S. Geter
United States
Best Humidifier I've tried
I love this Everlasting Comfort Humidifier. The cool mist helps my sons seasonal allergies from acting up and helps him sleep a lot better. He was having so many nose bleeds from being sick and the dry heat before we got this humidifier. Now that I run this humidifier every night he don't have any nose bleeds. I plan on purchasing another one because we need one in the bedroom & living room. I love the night light/water level light. I highly recommend everyone to get this humidifier. I've tried two others and this by far is my favorite.
03/01/2020
tanay
United States
A Good Purchase
it's a very good humidifier. With a full tank of water, it lasts up to 3 days. No noise. Two outlets for mist disperse which is very effective to spread around the house. One issue is it is very big and sometimes filling up the water is a pain but once it's filled up it last for long. Will, update later on how it last with continual use.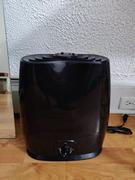 02/26/2020
Tarak N.
United States
Excellent product: Easy to use, quiet, works with tap water and reasonably priced.
I started using this around 2 weeks ago and fascinated by its silent functioning. It does its job really well, and what I find unique about this humidifier is that it doesn't require distilled water. Tap water is good enough as long as it's not serious hard water. Refilling the water tank is super easy, and the settings are user-friendly. I usually keep it running around the minimum setting, and the atomizer creates a very smooth flow of water droplets just enough to keep the room comfortable during the night. I'd have appreciated if the power cord was a little longer, I personally find the one provided to be too small.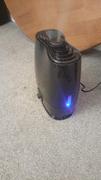 02/11/2020
JH
United States
09/23/2020
Michelle M.
United States
09/08/2020
Leicester P.
United States
Everlasting comfort
Works fine I'm very happy with it
09/03/2020
Jared L.
United States
Ultrasonic Cool Mist Humidifier 6L - Filterless - Auto Shutoff
So far so good, this thing is really good and holds a lot of water. I would buy it again.