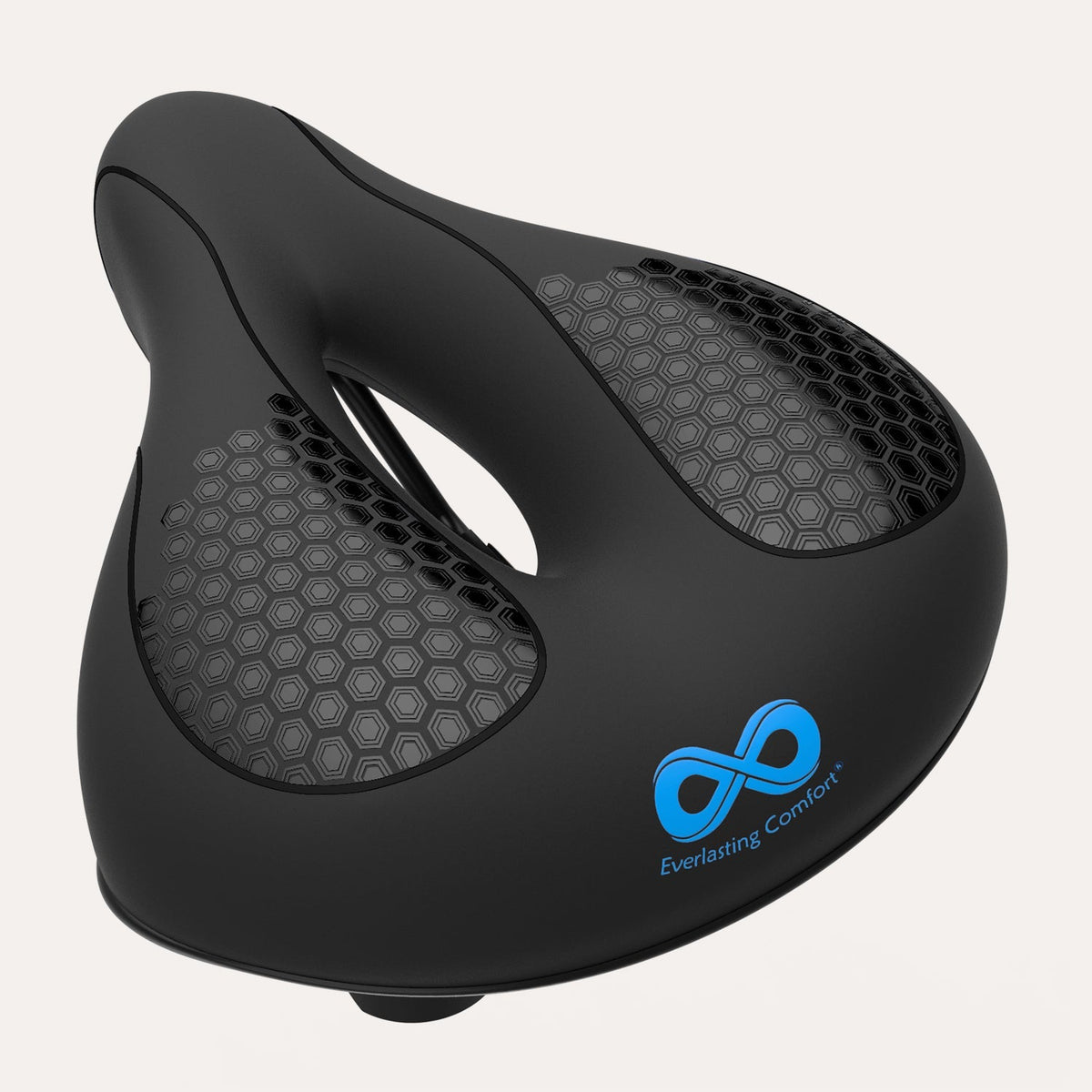 TOP FEATURES
Reflective Red Safety Strip
Shock Absorbing Balls
Our bike seat is equipped with dual shock absorbing balls that cradle the impact felt when riding over uneven ground, potholes, and bumps. They work in tandem to ensure your ride is smooth and comfortable.
Ventilation Hole for Added Cooling
Designed with a ventilation hole in the middle of the bike seat, it keeps you cool and dry even on the longest of rides. The hole circulates the cool air through, while your body heat is allowed to escape. Expertly wicks away sweat and keeps you from overheating.
Reflective Red Safety Strip
Safety is at the forefront of our bike seat cushion, that's why we've equipped it with a hard reflector that can be easily spotted at night. The red reflective safety strip is sturdy and holds up under all weather conditions so you can ride at night without worry.
100% High Density Memory Foam
Made with soft, yet supportive high density memory foam, our bike seat provides the added padding that most saddles lack. The thick cushion absorbs your body heat to soften and conform to your body shape for a personalized support system. Ride comfortably without added discomfort to your lower body.
Universal Fit - All Tools Included
Install our bike seat on nearly any type of bike for a smooth, comfortable ride. Works great on mountain bikes, road bikes, beach cruisers, and various types of indoor exercise bikes. It's quick and easy to install and includes all the tools necessary including a standard diameter seat rail clamp, hex key, and 13mm wrench.
Modern Design
Our bike seat comes in both blue and black to match your bicycle style. It features sleek honeycombed style grips outlined by reflective stripes on either side. The grips allow you to sit on your bike without sliding too far down, allowing you to keep the perfect riding posture. In addition, the synthetic leather surface is water resistant making it easy to wipe off any sweat or moisture.
Specifications
Material: Synthetic leather and high density memory foam
Length: 10.2"
Width: 8.2"
What size seat post will I need to fit this?
The Everlasting Comfort Bike Seat can be mounted on a 22mm seat post.
How universal is this bike seat?
Yes, our Everlasting Comfort Bike Seat works on any bike that uses a seat post.
How do you keep it clean?
To clean the Everlasting Comfort Bike Seat, use a damp cloth to wipe down the bike seat after use and let it air dry.
Is there a weight limit?
The Everlasting Comfort Bike Seat has no weight limit.
Are there springs on the underside?
Yes, our Everlasting Comfort Bike Seat has springs on the underside.
All Everlasting Comfort® products come with a Replacement Policy from Upper Echelon Products.
For ANY quality-related issues, we will send you a replacement for free!
Please note that this warranty is not valid unless the item is purchased directly from Everlasting Comfort® and registered under our warranty.
Upon receipt of your purchase, you need to register your product on our website. To register your product, click here.
For any inquiries regarding our warranty or registration, please email support@upperechelonproducts.com with your name and order information (if applicable), and we would be happy to assist you further.
To redeem a replacement under warranty, please email us the following information:
-Order Confirmation/Order ID
-Product Name/Title (in cases of multiple orders)
-Brief description of the issue(s) along with picture(s) of the damage (if applicable)
Disclaimers
The above guarantee is against defects in materials and workmanship. If anything goes wrong with your product, we will send you a replacement for free. The lifetime warranty does not apply to electronic products or our essentials oils set.
Electronics 2-Year Warranty:
Gaming Mouse Pad
Oil Diffuser
Humidifier
Boot Dryer
Touchless Soap Dispenser
30-Day Warranty:
Non-Returnable items:
Return Policy
We offer a free 30-day Return Policy for undamaged items. You can return your product for EC-store credit, a different product (Exchange), or a refund to the original payment method.
Refunds or EC-store credit will be processed upon the delivery and processing of the item(s).
For exchanges, we will ship your new item once the original item is received based upon your original exchange request. Exchanges are for products of equal or lesser value.
Please note the following exceptions to our return and exchange policy:
Returned items must be returned in the original packaging
Returned items must have no visible signs of wear or use
Exchange is only 1 item per Order with a product of equal or lesser value. Only rare exceptions will be made to this policy.
Gift Exchanges are only applicable if provided the Order Number as proof of purchase and is applicable for an Exchange of product(s) of equal or lesser value OR applicable for EC-store credit.
Questions? Get in Touch.
To initiate a Return or Exchange, please complete the following steps:
-Contact us by email at support@upperechelonproducts.com with your Order Number and specify the item(s) you wish to Return OR Exchange.
-Print the prepaid USPS Return Label that you will receive from our Customer Support and mail back the item(s) using the prepaid Return Label.
-Refunds or EC-store credit will be processed upon receipt of the item(s). For exchanges, the new item(s) will be shipped upon arrival of the original item(s).
Please know that we will provide one return label per product that can be placed directly onto that item. If you are returning more than one item, we will need to provide you with more than one return label.
If other item(s) are included that do not have a specific return label, we will be unable to refund those item(s).
If wishing to exchange item(s) of greater value than the original item purchased, we will provide EC-store credit which may be applied to the purchase of your new item(s).
Additional Information
Pain while riding can be attributed to low quality, hard bike saddles. Upgrade to our comfortable bike seat, made with 100 percent high density memory foam, which provides you with the soft, extra padding necessary to make your biking experience a pleasant one.