Luxury Faux Fur Throw Blanket
Luxury Faux Fur Throw Blanket
Bundle and Save 15%

Luxury Faux Fur Throw Blanket

Ultrasonic Cool Mist Humidifier 4L
Cozy up anywhere in a silky, soft, and warm throw blanket. 
Details:
Luxurious, Double-Sided, and High-Quality Faux Fur Throw Blanket. Ultra soft & fluffy and accents any modern or farmhouse decor.
AVAILABLE IN 2 PATTERNS

FAUX ANIMAL PRINT: Gray, arctic blue, black and chocolate
SOLID COLOR: Ivory, dark red, navy blue, and teal
• HIGH QUALITY FAUX FUR
• LONG, THICK, & DURABLE FUR
• HIDDEN STITCHING
• MACHINE WASHABLE
• DRYER SAFE
• DIMENSIONS: 50" x 65" (127cm x 165cm)
2 LUXURIOUS DESIGNS
LUXURIOUS SOLID COLOR
DOUBLE SIDED FAUX FUR
Cozy up anywhere with Everlasting Comfort's Faux Fur Luxury Throw Blanket. We carefully chose to create our throw blanket with faux fur for its durability, texture, and its illusion of real animal fur (no animals harmed). This faux fur throw measures 50" x 65" (127cm x 165cm). Every time you throw it on (pun intended), you immediately feel the fluffy warmth & silky softness for comfort like no other. Its hidden stitching ensures a sophisticated look that works seamlessly with any home decor. Its thicker, longer strands feel like real animal fur and assure your plush blanket won't fall apart & shed over time. Who knew a throw blanket can be so luxurious and visually-appealing accenting any modern home or farmhouse decor. Bring the comfort and style of Everlasting Comfort into your home. And, no matter the occasion, the luxury throw blankets makes the perfect gift for everyone.

IMPORTANT NOTES:
Wash before use to avoid shedding. Machine washable. Simply wash with cold & gentle settings. Tumble dry with no heat and don't use bleach.
Gray, black, arctic blue, and chocolate throws feature a faux animal print on one side and a classic solid color on the other.
Dark red, ivory, navy blue, and teal throws feature a classic solid design on both sides of the blanket.
Does this blanket shed terribly? Looking for one that doesn't.
We recommend washing before use to avoid shedding. Machine wash on a gentle cycle with cold water. Tumble dry, gentle cycle (no heat).
Does it shrink?
No, our Everlasting Comfort Throw Blanket does not shrink. Please wash as instructed on the Care Label.
Can I add fabric softner?
We would not recommend using fabric softener as this could damage the fibers of the Everlasting Comfort Throw Blanket.
How do I wash this blanket?
Machine wash the Everlasting Comfort Throw Blanket on a gentle cycle with cold water. Tumble dry, gentle cycle (no heat).
What does faux fur mean?
The word "faux" means fake or synthetic, meaning the material is manufactured.
Is faux fur vegan?
Generally, there is no chemical difference between faux and vegan furs as neither are made from animals.
Can you wash a faux fur blanket?
Always check your products care instructions before cleaning. While some faux fur materials can be machine washed, others require hand-washing or dry cleaning.
Does faux mean fake?
Yes, "faux" means false or synthetic material.
Is faux fur ethical?
Faux fur is ethical in that it saves animal lives and can produce textile employment, especially when the materials are sustainably sourced.
What is faux fur made of?
Faux fur is made of synthetic fibers that are dyed and brushed to resemble real animal fur.
What is a throw blanket?
A throw blanket is similar to a regular blanket, but the former is a smaller knit fabric.
What is the purpose of a throw blanket?
Throw blankets are smaller than standard blankets and are purposed for couch or chair use.
Is a throw blanket a good gift?
New trends in throw blankets like large-knit and weighted blankets make them suitable for gifting.
Why is it called a throw?
Throw blankets are meant to be casually draped over furniture.
Can you sleep with a throw blanket?
Depending on the size, you can sleep with a throw blanket.
How do you decorate a sofa with a throw blanket?
Decorate by adding texture with unique folding or draping styles. Colors add additional decorative flare.
What is the difference between an Afghan and a throw blanket?
Afghan blankets are more colorful and created by crocheting or knitting.
How do you style a throw blanket on a chair?
Styling a throw blanket for a chair requires unique folding or draping to add texture to the room.
Warranty Information
All Everlasting Comfort® products come with a Replacement Policy from Upper Echelon Products.
For ANY quality-related issues, we will send you a replacement for free!
Please note that this warranty is not valid unless the item is purchased directly from Everlasting Comfort® and registered under our warranty.
Upon receipt of your purchase, you need to register your product on our website. To register your product, click here.
For any inquiries regarding our warranty or registration, please email support@upperechelonproducts.com with your name and order information (if applicable), and we would be happy to assist you further.
To redeem a replacement under warranty, please email us the following information:
-Order Confirmation/Order ID
-Product Name/Title (in cases of multiple orders)
-Brief description of the issue(s) along with picture(s) of the damage (if applicable)
Disclaimers
The above guarantee is against defects in materials and workmanship. If anything goes wrong with your product, we will send you a replacement for free. The lifetime warranty does not apply to electronic products or our essentials oils set.
Electronics 2-Year Warranty:
Oil Diffuser
Humidifier
Boot Dryer
Touchless Soap Dispenser
30-Day Warranty:
Non-Returnable items:
Return Policy
We offer a free 30-day Return Policy for undamaged items. You can return your product for EC-store credit, a different product (Exchange), or a refund to the original payment method.
Refunds or EC-store credit will be processed upon the delivery and processing of the item(s).
For exchanges, we will ship your new item once the original item is received based upon your original exchange request. Exchanges are for products of equal or lesser value.
Please note the following exceptions to our return and exchange policy:
Returned items must be returned in the original packaging
Returned items must have no visible signs of wear or use
Exchange is only 1 item per Order with a product of equal or lesser value. Only rare exceptions will be made to this policy.
Gift Exchanges are only applicable if provided the Order Number as proof of purchase and is applicable for an Exchange of product(s) of equal or lesser value OR applicable for EC-store credit.
Questions? Get in Touch.
To initiate a Return or Exchange, please complete the following steps:
-Contact us by email at support@upperechelonproducts.com with your Order Number and specify the item(s) you wish to Return OR Exchange.
-Print the prepaid USPS Return Label that you will receive from our Customer Support and mail back the item(s) using the prepaid Return Label.
-Refunds or EC-store credit will be processed upon receipt of the item(s). For exchanges, the new item(s) will be shipped upon arrival of the original item(s).
Disclaimers
Please know that we will provide one return label per product that can be placed directly onto that item. If you are returning more than one item, we will need to provide you with more than one return label.
If other item(s) are included that do not have a specific return label, we will be unable to refund those item(s).
If wishing to exchange item(s) of greater value than the original item purchased, we will provide EC-store credit which may be applied to the purchase of your new item(s).
LONG, THICK, AND DURABLE FUR
MACHINE WASHABLE/DRYER SAFE
Makes the Perfect Gift
Wondering what to get your friends and family for the holidays? Or have an upcoming birthday? Maybe you just feel like spoiling your loved ones. No matter the occasion, look no further. The Everlasting Comfort Luxury Throw Blanket is the perfect gift for everyone!
Reviews
Customer Reviews
Write a Review
Ask a Question
08/18/2020
Allison O.

United States
Amazing!
We bought 2 blankets and they are the BEST! We love how soft and cuddly they are! They also shipped SO FAST! Great communication and customer service!
08/13/2020
Ashlee R.

United States
Super Plush, gorgeous and all season throw!
From the minute I took it out, I could tell that this was a great buy! Warm, comfortable and definitely an all season pick! It's light enough to use indoors for the summer when the AC is on, or warm enough for outdoors on a cold chilly night... HIGHLY RECOMMEND, and with the lifetime warranty, you really can't go wrong. My suggestion: get one for yourself and gift another before the holidays come! I can see these getting sold out in the colder months for sure.
08/12/2020
Kerry D.

United States
SO SOFT. JUST BUY IT.
This faux fur throw blanket is super soft and comfy. My entire family has been fighting over it. And look, even the dog loves it! It's double-sided with the same soft fur on both sides. One side is this Arctic blue tie-dye and the other is a solid light blue-gray. The washing instructions say to wash on the gentle cycle and air dry, no heat. It came out even softer after the first washing. This will be my new reading blanket, watching movies on the couch blanket, snuggle blanket.
Kitty-approved for comfort & style
I'm not sure how a furry throw can also feel like silk but this one does! It's light yet warm, and the best part? As soon as I put it in the bed my car (who must approve everything!) jumped into it and began putty loudly while rolling around on it, tail high in the air, acting like a super model in a Vogue shoot!! Kitty-approved and the human loves it too!! Can't beat the price and the color is gorgeous!!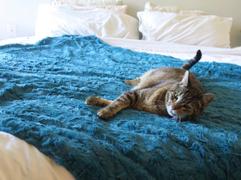 Pregnant Mom Approved!
Just got this blanket and I love it already. I did run it through the wash before using and it held up really well. It's super soft and warm but also thin enough to make it perfect for lounging around. I'm weeks away from giving birth to my first child and anything to help keep me comfy is a lifesaver right now.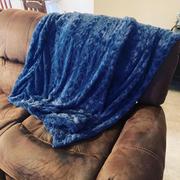 My old blanket had officially been replaced!
If Prince decided to make a home goods line I'm pretty sure the blanket would feel like this. Super soft, loves to cuddle, have luxury parties and smells like money. This is the softest blanket I've ever felt! Double sided, fauxfur and machine washable вќ¤пёЏ Oh and it has a warranty ?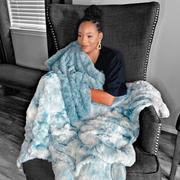 Great value faux fur blanket
This faux fur blanket is super soft, comfy, cozy, thick and appears to be a good quality. Perfect for snuggling up with!! I love the texture and the amalgamation of colors black, brown, and white. You can put it anywhere in your house with all the different colors they have. Definitely recommended.