Memory Foam Airplane Travel Pillow Kit
Product Description
There's nothing worse than sitting on a long flight trying to find the perfect position to rest your head so you can get some sleep. No matter what you try to do, you'll be uncomfortable and unable to sleep, or you'll fall asleep at an awkward angle and wake up with severe neck pain. That's why you need the Everlasting Comfort Memory Foam Travel Pillow!
Instead of spending the flight shifting and adjusting to find a comfortable position, simply slide this neck pillow behind your head and find instant comfort. This pillow is made with pure memory foam and is designed to contour perfectly to your neck and head for maximum comfort and firm support while you rest.
Airplane Travel Neck Pillow Kit Features
You won't find a travel pillow better suited to your needs than this one, Let's take a closer look at the unique features this airplane pillow has to offer:
-Pure memory foam
This travel pillow is made from 100% memory foam with zero additives. The memory foam is heat responsive which allows it to mold perfectly to your neck and head so you receive maximum comfort and firm support while you rest your head back.
-Ergonomic design
This pillow has an ergonomic raised lobe design which provides much more support than the traditional travel pillows. Not only does this pillow offer support when you rest your head back, but it's also perfect for those who prefer resting their head on either side.
-Convenient cell phone pocket
There's nothing worse than falling asleep on a plane with your phone in your lap, only to wake up to it slipping onto the ground and sliding under a chair. That's why this product has a unique and convenient pocket that can fit your cell phone or other small items, such as headphones or glasses.
-Comes with free bonus items
When you purchase this travel pillow, you won't just be getting a travel neck pillow. You'll also be getting memory foam earplugs to block out noise, a padded adjustable eye mask to block out light, and a travel bag to easily carry everything with you while you're on-the-go.
-Lifetime replacement guarantee
Everlasting Comfort created this travel pillow to be durable, but if anything happens to your pillow, we've got your back. We'll send you a free replacement right away so you won't be left without your favorite travel pillow.
If you're a frequent flyer, there's nothing more vital than a high-quality travel neck pillow. It's time to put an end to finding awkward positions while sitting on a plane. With the Everlasting Comfort Memory Foam Travel Pillow, you'll find comfort instantly and be able to drift to sleep faster than ever. Before you know it, your plane will be touching down at your destination!
Purchase your Everlasting Comfort travel pillow today and be the envy of all the uncomfortable passengers that surround you. When you start using this neck pillow, you'll quickly wonder why you waited so long to make this purchase!
FAQ
Q: Dimensions, roughly?
A: The Everlasting Comfort Neck Pillow in-package dimension are 14" x 9" x 5", weight: 0.9 lbs. out-of-package the neck pillow dimensions are.
---
Q: Is this pillow only for left side? Or can you use it for right side also?
A: Yes, our neck pillow is designed with raised lobes on either side that allow your neck and head to contour and lean comfortably against either side of the soft yet supporting memory foam cushion.
---
Q: Is this comparable to a tempur-pedic travel pillow? Same memory foam?
A: Our neck pillow is made of 100% pure memory foam with no additives and from the exact same material as the world's leading memory foam manufacturers.
---
Q: Is the height adjustable?
A: No, the Everlasting Comfort's Memory Foam Neck Pillow height is not adjustable.
---
Q: Is this a soft or ridged pillow? I'm looking for soft for under my neck
A: The Everlasting Comfort Neck Pillow has the perfect combination of softness and support. It's made from 100% pure luxury memory foam and it's perfectly formulated to provide the ideal amount of support to the neck and head area yet offer the everlasting comfort that you deserve.
User Reviews
Customer Reviews
Write a Review
Ask a Question
07/21/2020
Vlad
United States
The Most Comfortable Neck Pillow
Feels Absolutely Incredible. I didn't get the Travel Neck Pillow Kit for Traveling, I got it for relaxing at home and supporting my neck after experiencing whiplash and I must admit the pain in my neck went away after sleeping with it for a few nights and wearing it around the house. Also, the Eye Mask and Ear Plugs helped me fall asleep faster and helped me take intermittent and much needed naps throughout the day. I highly recommend this Neck Cushion/Pillow for immediate pain relief and neck support!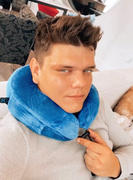 Best for long haul flights and non sleepers
Beat purchase EVER! I never ever sleep on flights and traveling home to London from Miami I always have that 8hr overnight flight when I visit. With this neck pillow it is the first time I've slept on a plane for a solid 5 hours. Managed to stay awake for the whole day when I landed at 10am in the morning which is a god send!
04/06/2020
sue
United States
Super comfortable!
My previous travel pillow was destroyed by my dog. I wanted another one like it. I came across this one and decided to give it a try. Everything was as described in the ad. No problems with packaging. Since we are currently on lock in, I'm not traveling. So to test it, I slept with it on overnight. I had a great nights sleep. The pillow is super comfortable.
04/03/2020
RK
United States
Really nice choice.
I was very surprised. It's hard to judge things like these when you can't feel them in person. It turned out to be the right amount of firmness for me. And the size was good.I was concerned it would be a struggle to get it in back into the carry bag but that wasn't a problem. The royal blue color was really pretty.I'm really happy I bought this one.
03/06/2020
J.L.
United States
Very supportive and comfortable
I have at least a dozen airline pillows, but they're all the ****** 'cotton batting' filled ones that I always buy at the airport for $20 because I forgot mine at home. Those are so soft and mushy that I need to double them up to get enough support for my head, which kind of defeats the purpose of being able to put it around your neck. But not this one! It's extremely supportive, and the soft cover is very comfortable. Now I just need to remember to bring it with me when I fly! :)
02/24/2020
Jill C.
United States
A Better Travel Pillow
I worked in 22 states for 18 years and did a LOT of sleeping on planes.I have tried a number of different neck pillows and I like this pillow best for a number of reasons. The memory foam adapts to my neck and shoulders, making a perfect fit and supporting my head and neck as I sleep, even in a middle airplane seat where there is nothing to lean against. Most pillows are too thick behind my neck but this one is thinner and much more comfortable. It is lightweight and comes with its own stuff sack. The cover is removable and machine washable.As a bonus, it comes with an eye mask and ear plugs.I'm very happy with this travel pillow. Give it a try and I think you'll agree!
02/21/2020
Shas
United States
Great support for my neck
It is high quality and super nice. I used it on my travel to Bahrain which was a 19 hour flight and it supported my neck throughout the journey. I was able to sleep through the plane and it provided great support for my neck.
02/21/2020
CaptainPhysics
United States
Pillow and all you need to zzzzz
I really like that this pillow comes with mask and plugs and fits into a bag. The pillow is comfortable and the foam feels nice. My only small complaint is that it is a little bulky and doesn't break down at all. But that is probably due to the quality and nature of the foam. I recommend.
02/18/2020
Kimberly H.
United States
Feels like your neck is on a cloud!
When I first received this product I was so impressed with the packaging because packaging is everything! I took the pillow out of the bag and o my goodness it was so soft. I immediately placed it around my neck and fell in love. In order to open the clasp you just pull it apart. So once it was around my neck I closed the tabs together and tightened it and it made the pillow even more comfortable and snug around my neck. To make this even better this set comes with an eye mask and ear plugs. I recommend this company 100%
02/13/2020
The L.
United States
My Wife Loved Having this Pillow
My wife recently used this on the return portion of our flight and she absolutely loved it. I had packed it for the entirety of the trip, but she didn't want to use it for the outbound flight. I don't know why, she just declined to use it. Then she took a little nap on the plane and work up complaining of a stiff neck. On our return flight home, I offered it again and when I reminded her about her stiff neck, she immediately agreed to use it. She said it was wonderful to nap on and was mad for not using it on the outbound flight. My only complaint is that this thing is a little bulky, but it comes with a long nylon drawstring which was convenient for tying to my carry-on roller bag so I didn't have to keep it stuffed in my backpack the entire trip.