Memory Foam Knee Pillow
Memory Foam Knee Pillow
Bundle and Save 15%

Memory Foam Seat Cushion and Back Cushion, Gel Infused & Ventilated
The Everlasting Comfort Knee Pillow for side sleepers is the perfect blend of orthopedic doctor recommended design and space-age cushion technology. It's our ode to all side sleepers, pregnant women, and snoozers looking for improved comfort and relief from common waking pains.

Doctors recommend sleeping with a pillow between your knees for a plethora of reasons. Leg pillows for sleeping have many benefits that help you wake well-rested with reduced pain along the legs, butt, back, and neck. Our soft and plush leg wedge pillow is the perfect companion for creating space between your legs and helping provide improved sleep posture, spinal alignment, and hip pain relief. And an improved sleeping position is beneficial for blood circulation, which is a must during pregnancy.

Our leg pillow for back pain features 100% premium memory foam for the ultimate soft but supportive foundation. The memory foam's body heat-responsive technology helps the cushion adjust to each individual's body for the best in customized comfort. The dual ergonomic contours allow for each of your legs to fit snuggly into the pillow, creating stability throughout your slumber. And unlike other knee pillows, ours includes an uber soft adjustable and removable strap that keeps the cushion in place when you toss and turn during the night. The adjustable strap also makes it perfect for sleepers big and small.

To ensure your knee pillow will last year over year, we made our cover easy to remove, machine washable, and dryer safe. It's as simple as unzipping the cover, gently pulling the memory foam cushion out, and throwing it in your washer and dryer. Including this feature is our way of helping you keep your knee pillow feeling fresh so you can enjoy your sleep in peace. And to provide an extra layer of protection, all our knee pillows are backed by the Everlasting Comfort Lifetime Replacement Policy. If anything should happen to your knee pillow, we will replace it for free. Don't continue to suffer from debilitating waking pains; get the knee pillow designed with your health in mind.
What is the size of the knee pillow?
Our knee pillow measures 10.5" x 8" x 6"
Do you recommend this pillow for side sleepers?
Yes. The knee pillow is perfect for side sleepers. It is designed to support the knees and legs to improve spinal alignment.
Is there a warranty on this?
Our knee pillow is back by a lifetime replacement policy. If anything goes wrong with your pillow we will replace it free of charge.
What kind of foam is used?
The Everlasting Comfort Knee Pillow uses 100% memory foam.
Can you sleep with this pillow on a mattress?
Absolutely. You can use this pillow anywhere you decide to sleep. Mattress, couch, or wherever else.
Is it good to sleep with a pillow under your knees?
Sleeping with a pillow between your knees can reduce pressure on the lower back, mimimizing fatigue.
How do you use a knee pillow?
Knee pillows are traditionally used for side-sleepers by separating the legs and relieving tension in the lower back.
Where do you place a knee pillow?
Simply place the Everlasting Comfort Memory Foam Knee Pillow between your knees and secure with its adjustable straps for all-night comfort.
Do knee pillows really work?
The Everlasting Comfort Memory Foam Knee Pillow is designed to allign the spine, which can aid in decreasing pressure in key areas.
Do knee pillows help with knee pain?
The Everlasting Comfort Memory Foam Knee Pillow prevents knees from rubbing together using body- contouring memory foam, which relieves pressure in the back, hips and knee areas.
How do I stop my hips from hurting when I sleep?
Using the Everlasting Comfort Memory Foam Knee Pillow may help prevent hip pain by alligning the spinal cord with it's ergonomic design.
Warranty Information
All Everlasting Comfort® products come with a Replacement Policy from Upper Echelon Products.
For ANY quality-related issues, we will send you a replacement for free!
Please note that this warranty is not valid unless the item is purchased directly from Everlasting Comfort® and registered under our warranty.
Upon receipt of your purchase, you need to register your product on our website. To register your product, click here.
For any inquiries regarding our warranty or registration, please email support@upperechelonproducts.com with your name and order information (if applicable), and we would be happy to assist you further.
To redeem a replacement under warranty, please email us the following information:
-Order Confirmation/Order ID
-Product Name/Title (in cases of multiple orders)
-Brief description of the issue(s) along with picture(s) of the damage (if applicable)
Disclaimers
The above guarantee is against defects in materials and workmanship. If anything goes wrong with your product, we will send you a replacement for free. The lifetime warranty does not apply to electronic products or our essentials oils set.
Electronics 2-Year Warranty:
Oil Diffuser
Humidifier
Boot Dryer
Touchless Soap Dispenser
30-Day Warranty:
Non-Returnable items:
Return Policy
We offer a free 30-day Return Policy for undamaged items. You can return your product for EC-store credit, a different product (Exchange), or a refund to the original payment method.
Refunds or EC-store credit will be processed upon the delivery and processing of the item(s).
For exchanges, we will ship your new item once the original item is received based upon your original exchange request. Exchanges are for products of equal or lesser value.
Please note the following exceptions to our return and exchange policy:
Returned items must be returned in the original packaging
Returned items must have no visible signs of wear or use
Exchange is only 1 item per Order with a product of equal or lesser value. Only rare exceptions will be made to this policy.
Gift Exchanges are only applicable if provided the Order Number as proof of purchase and is applicable for an Exchange of product(s) of equal or lesser value OR applicable for EC-store credit.
Questions? Get in Touch.
To initiate a Return or Exchange, please complete the following steps:
-Contact us by email at support@upperechelonproducts.com with your Order Number and specify the item(s) you wish to Return OR Exchange.
-Print the prepaid USPS Return Label that you will receive from our Customer Support and mail back the item(s) using the prepaid Return Label.
-Refunds or EC-store credit will be processed upon receipt of the item(s). For exchanges, the new item(s) will be shipped upon arrival of the original item(s).
Disclaimers
Please know that we will provide one return label per product that can be placed directly onto that item. If you are returning more than one item, we will need to provide you with more than one return label.
If other item(s) are included that do not have a specific return label, we will be unable to refund those item(s).
If wishing to exchange item(s) of greater value than the original item purchased, we will provide EC-store credit which may be applied to the purchase of your new item(s).
ADJUSTABLE & REMOVABLE STRAP
ORTHOPEDIC DOCTOR RECOMMENDED DESIGN
INSTANT HIP, LEG & LOWER BACK PAIN RELIEF
PREGNANCY & MATERNITY SUPPORT
Reviews
Customer Reviews
Write a Review
Ask a Question
08/30/2020
William B.

United States
Great pillow!
I am primarily a side-sleeper and as I get older I noticed that I my legs started to hurt if I slept on one side too long. Decided to try this pillow to see if it would help and it did. I don't feel any soreness or pain in my legs and hips in the morning since I started using it. Highly recommended!
Outstanding product delivering outstanding results!'
This product is outstanding. My knees and backpain during sleep time disappeared And it has a feature that others don't offer. The strap with velcro makes all the difference as it keeps the pillow in place all night long! Excellent benefit for the cost.
08/06/2020
D. Rummerfield
It helped my back w/ herniated L5.
Actually helped my back in the mornings. First night was great pain relief but took some getting used to feel. I've had a herniated L5 for almost 20 years. Mornings I'm stiff and sore. I knew pillows helped my side sleeping but usually too bulky and won't stay in place. This was exactly what I needed. The strap makes the difference as I like to flip sides.
No more pain in the morning!
I am a side sleeper and got up every morning with lower back pain.I attributed it to a variety of reasons- need a new mattress, being flat footed, being a teacher who stands all day, etc.I decided after trying to sleep with a variety of bed pillows with no luck, to try this.It works great!No more waking up hurting and having to take Advil or Tylenol first thing in the morning.My dog Hank is a fan, too.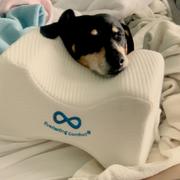 Should have bought years ago. Must buy now!
I suffer from Sciatica, lower back pain and hip pain. If I don't sleep with a pillow between my legs I'm in severe pain the next day. Before ordering this I lost the pillow in the middle of the night. Wow this is amazing and wish I had gotten it years ago. I'm thinking of ordering another one to have at my families house for when I stay there. My lower backPain isn't thereand I move around a lot in my sleep. You barley notice it's there.
Made a world of difference!
After having two kids, my hips **** me when I sleep, as I am a side sleeper.My chiropractor recommended I get a pillow for my legs to help take the pressure off of them. I decided on this one and this little gem is amazing!I love the strap that is attached so you don't have to worry about losing it when you roll over. The removable cover is easy to wash as well. It has made a world of difference in my hips and how I feel when I get out of bed. I even bought my husband one because I know he will benefit from it as well. Great product!
Comfortable knee cushion
Good qualityknee cushion with scrap to secure around leg or knee to hold in place (optional) it performs as a knee cushion should. Soft, if you need something more dense or firm you may want something else Might be nice to have in a darker color, but the white is pretty. I like it.
12/17/2018
Kevin M.

United States
6 foot 3 giant lineman
I am a 6 foot 3 330 pound foreman lineman.I live this pillow, no more big regular pillows for in between my knees.I leave the velcro strap that is comfy as well where it's at and slide if over my foot up to my knee and I wake up with no, zero, nadda, back pain in combination with my Amazon zinus king memory foam bed for 400.Life is good, I've lost 40 pounds since the bed and my knee pillow.Energy level is off the chain.Can't go wrong with this knee pillow unless you don't get one and that's your problem.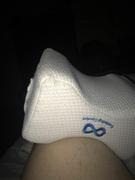 10/23/2018
Sazqwatch

United States
Perfect Cushion for Hip Alignment
The item arrived well package and in perfect condition.It arrived on time as well.The cushion is just the right size.It has a removeable and washable cover.It came with a very useful and comfortable strap to keep the cushion in place on one leg. This allows you to roll over during sleep without the cushion falling to the side.Included was a package of ear plugs.The cushion works great and the ear plugs really keep out the noise.Great product. Highly recommended.
03/11/2018
lemonsquare7

United States
Second Purchase, Good Product!
I just bought a second one of these after being jealous of the one I got my boyfriend. He's got boney knees so he always used to use the comforter to cushion between them, but then he would steal the blankets, etc etc. I'm weirdly picky about things I get off of Amazon and I was worried the strap or the Velcro would get annoying, but the strap is actually super helpful, and the Velcro feels nothing like Velcro at all (you can't even feel the seam where the Velcro starts and the pillow begins) Even then, your legs don't touch that part. It's a nice thickness but still coushins well. Long story short it works great and he uses it all the time! I just tried mine last night and while it didn't fix all my hip problems, I slept better than I have in weeks with it.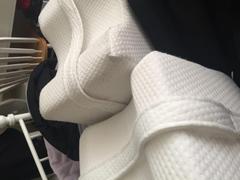 Additional Information
There's nothing worse than waking up and feeling extremely sore, with aches and pains all over your body from poor sleeping posture. If this sounds like something you experience regularly, it's time to learn about the Everlasting Comfort Pure Memory Foam Knee Pillow!
This pillow slides right between your knees while you sleep, which helps to keep your back and hips properly aligned, even while sleeping on your side. If you frequently wake up with knee, hip, back, or joint pain, it might be because you're sleeping on your side with poor posture. This knee pillow fixes that issue easily, leaving you feeling refreshed and pain-free in the morning.
Additionally, if you're pregnant or experience sciatica pain, this pillow is a must-have! Good sleeping posture is especially important in these instances, and there's never been an easier solution than the Everlasting Comfort Knee Pillow. Let's dive deeper and take a look at the amazing benefits this product offers:
 -100% memory foam
 This product is made with high-quality memory foam without any additives. This is the same pure memory foam you'd find from the top memory foam manufacturers in the world.
 -Removable and adjustable strap
 This knee pillow comes with an adjustable strap to help keep the pillow in place while you're sleeping. Simply tighten the strap to your comfort and drift off to sleep. If you would rather not use the strap, it's easily removable!
 -Ergonomic design
 With a curved ergonomic design, this pillow keeps your knees separated with ideal spacing to support your legs, hips, and back while you sleep. With the orthopedic contour of this pillow, you'll find relief for knee, hip, leg, back, thigh, pelvis, and lumbar pain. It's also an effective treatment for pain from sciatica, arthritis, and bursitis, and is great for pregnant women who sleep on their side.
 -Comes with free memory foam earplugs
 When you purchase this memory foam knee pillow, you'll get a free bonus gift! Drift into sleep easier than ever before with a free pair of memory foam earplugs that mold perfectly to the shape of your ear to block out any sound in the room while you're sleeping.
 -Lifetime replacement guarantee
 Everlasting Comfort worked hard to create the perfect knee pillow to provide support while you sleep, and you'll love the result of that hard work. If anything happens to your knee pillow, you can feel confident that it'll be replaced right away with a brand new one, so you'll never be without it.
 Don't suffer through another night of tossing and turning through your sleep, only to wake up feeling extremely sore. It's time to take your sleep game to the next level with the Everlasting Comfort Memory Foam Knee Pillow. When you purchase this product, you can say goodbye to joint, back, and hip pain and start waking up feeling refreshed and pain-free.