Back Cushion Lumbar Support Pillow
Back Cushion Lumbar Support Pillow
Bundle and Save 15%

Back Cushion Lumbar Support Pillow

Memory Foam Coccyx Seat Cushion for Office Chair
Memory Foam Lumbar Support Pillow
Get the best in back support and comfort with the Everlasting Comfort Memory Foam Lumbar Pillow. Good health involves a lot of things, and one of those is a strong back support. Proper support for your back's natural curves goes a long way toward getting through the day with enough energy to do the things you love. When designing our cushion, we focused on alleviating pain in the upper, middle, and lower back. Our back pillow will keep you seated in the proper position by improving support in the lumbar area and providing all-day relief.
During the design process, we decided to include as many pain relief and support features as possible. The 100% premium memory foam used in our lumbar support for desk chair targets pain sensitive areas in the back. And one of the best characteristics of memory foam is that it returns to its original shape when you're done. Its ergonomic curved structure molds to your back to provide customized support. To help keep you cool and comfortable, our chair back support pillow comes with a hypoallergenic and breathable mesh cover. It's machine washable and dryer safe, meaning you can keep your back cushion feeling fresh and clean for a lifetime.
Whether you're taking a road trip, traveling, pulling an all-nighter, or trying to meet a deadline at work, our cushion provides your back with the support it needs. Our back support for office chair comes with dual adjustable straps and extensions. This means it fits most desk chairs, office chairs, car and truck seatbacks, or anywhere else you need additional support. And to ensure you always feel supported, we back all our back cushions with the Everlasting Comfort Lifetime Replacement Policy. Stop discomfort in its tracks by getting the lumbar support pillow for chair, car, or plane designed with your wellness in mind.
BACK CUSHION LUMBAR SUPPORT PILLOW
If you spend a lot of time sitting down each day, it's important to have good posture and provide your body with support to avoid chronic pain. If you are hunched over with poor posture, you'll end your day with serious back pain that never seems to go away. That's why you need the Everlasting Comfort Lumbar Support for Office Chair!
This lumbar pillow is made with top-quality memory foam to provide the support you need while sitting in your office chair or in your car for long hours. It perfectly contours to your body and alleviates pressure to reduce chronic pain in the lower back and lumbar area. Let's take a closer look at the unique features this back cushion offers:
-Pure memory foam
This lumbar support pillow is made with the same pure memory foam that comes from the top memory foam manufacturers in the world. It's durable and will perfectly contour to your body by responding to body heat. By molding to your shape, you'll have maximum comfort while getting the firm support you need to alleviate lower back pain.
-Versatile lumbar support pillow
This lumbar pillow can be used on your office chair to help improve posture while working on the computer. It'll keep you upright and provide lumbar support to reduce pressure and pain. Additionally, you can use this support pillow in the car so you aren't hunched over the steering wheel during long drives.
-Dual adjustable straps
You'll find two adjustable straps on this pillow so you can easily fit it on any chair to keep it from slipping and sliding around. Simply tighten the straps around the chair to keep it in place, even as you shift and turn in your chair.
-Hypoallergenic mesh cover
The lumbar support pillow comes with a breathable, hypoallergenic mesh cover that provides maximum comfort. Also, this cover will easily unzip and is machine-washable so your pillow will always be fresh and clean.
-Lifetime replacement guarantee
Everlasting Comfort created this lumbar support pillow to be durable and long-lasting, but if anything happens to it, we've got your back! We'll send you a brand new replacement so you'll never be without lumbar support again.
Whether you work in an office chair all day or spend your day driving, you need all the help you can get to relieve chronic pain. Not only can this pillow alleviate back pain, but it will also help to correct bad posture by supporting your lumbar and straightening your back while you sit.
If you spend long hours sitting down hunched over with poor posture, this lumbar support pillow can alleviate those pesky lower back pains you get after working. Don't suffer through chronic back pain any longer, give your body the love it needs with the Everlasting Comfort Lumbar Support Pillow. When you start using your new support pillow, you'll wonder why you didn't make this purchase sooner!
How thick is this cushion?
The Everlasting Comfort back cushion is approximately 2" in the center and gets thicker on the sides, reaching approximately 4.5" thick.
Is this real memory foam?
Our Everlasting Comfort Back Cushion is made of 100% premium quality memory foam, with no additives, and is made of the exact same material as the world's leading memory foam manufacturers. It has medium density preventing it from being too soft or too firm.
How long are the straps?
The Everlasting Comfort Back Cushions come with dual adjustable straps and an additional, removable extender, allowing it to fit around any office chair or vehicle seat easily.
Can you use it in cars?
The Everlasting Comfort Back Cushion's dual adjustable straps come with a removable extender, allowing it to fit around any office chair or vehicle seat easily.
What is a lumbar pillow?
A lumbar pillow is typically a foam pillow that provides support to the lower back and legs.
How to use a lumbar pillow
A lumbar pillow is recommended for use when sitting on any hard surface.
Where to put lumbar support pillow
The lumbar support pillow is recommended for use on the lower back.
What is a lumbar pillow used for?
Lumbar pillows may provide lower back support.
How do you use a lumbar pillow in bed?
For best results, a lumbar pillow should be used while laying flat on your back.
How thick should a lumbar pillow be?
The Everlasting Comfort Back Cussion increase from 2 inches in the center to 4.5 inches thick.
Is lumbar support good for your back?
Some research indicates lumbar support can help decrease pain in the lower back.
Is memory foam good for lumbar support?
Memory foam conforms to the natural curvature of your body to provide support.
Warranty Information
All Everlasting Comfort® products come with a Replacement Policy from Upper Echelon Products.
For ANY quality-related issues, we will send you a replacement for free!
Please note that this warranty is not valid unless the item is purchased directly from Everlasting Comfort® and registered under our warranty.
Upon receipt of your purchase, you need to register your product on our website. To register your product, click here.
For any inquiries regarding our warranty or registration, please email support@upperechelonproducts.com with your name and order information (if applicable), and we would be happy to assist you further.
To redeem a replacement under warranty, please email us the following information:
-Order Confirmation/Order ID
-Product Name/Title (in cases of multiple orders)
-Brief description of the issue(s) along with picture(s) of the damage (if applicable)
Disclaimers
The above guarantee is against defects in materials and workmanship. If anything goes wrong with your product, we will send you a replacement for free. The lifetime warranty does not apply to electronic products or our essentials oils set.
Electronics 2-Year Warranty:
Oil Diffuser
Humidifier
Boot Dryer
Touchless Soap Dispenser
30-Day Warranty:
Non-Returnable items:
Return Policy
We offer a free 30-day Return Policy for undamaged items. You can return your product for EC-store credit, a different product (Exchange), or a refund to the original payment method.
Refunds or EC-store credit will be processed upon the delivery and processing of the item(s).
For exchanges, we will ship your new item once the original item is received based upon your original exchange request. Exchanges are for products of equal or lesser value.
Please note the following exceptions to our return and exchange policy:
Returned items must be returned in the original packaging
Returned items must have no visible signs of wear or use
Exchange is only 1 item per Order with a product of equal or lesser value. Only rare exceptions will be made to this policy.
Gift Exchanges are only applicable if provided the Order Number as proof of purchase and is applicable for an Exchange of product(s) of equal or lesser value OR applicable for EC-store credit.
Questions? Get in Touch.
To initiate a Return or Exchange, please complete the following steps:
-Contact us by email at support@upperechelonproducts.com with your Order Number and specify the item(s) you wish to Return OR Exchange.
-Print the prepaid USPS Return Label that you will receive from our Customer Support and mail back the item(s) using the prepaid Return Label.
-Refunds or EC-store credit will be processed upon receipt of the item(s). For exchanges, the new item(s) will be shipped upon arrival of the original item(s).
Disclaimers
Please know that we will provide one return label per product that can be placed directly onto that item. If you are returning more than one item, we will need to provide you with more than one return label.
If other item(s) are included that do not have a specific return label, we will be unable to refund those item(s).
If wishing to exchange item(s) of greater value than the original item purchased, we will provide EC-store credit which may be applied to the purchase of your new item(s).
ORTHOPEDIC DOCTOR RECOMMENDED DESIGN
UPPER, MIDDLE, & LOWER BACK PAIN RELIEF
DUAL ADJUSTABLE STRAPS (EXTENSION STRAPS INCLUDED)
MACHINE WASHABLE/DRYER SAFE COVER
Reviews
Customer Reviews
Write a Review
Ask a Question
08/19/2020
Robert M.

United States
Very satisfied
I recently went to visit a friend who was 2 hours away. I used the back support along with the Everlastng Comfort seat cushion. It was the best trip in quite a few years! Four hours, round trip with absolutely no pain or discomfort. I won't go anywhere without them again.
It works. Period.
I was skeptical. WAS. I'm not anymore. The thing just plain works. If you position it CORRECTLY on your chair, you will see/feel results in 24 to 48 hours. Seriously. I've been dealing with back issues for 20 years. I couldn't believe it myself. But... This thing works. Period.
back pain gone in a about a week
I had switched to a new office chair a couple of months back.The new chair is extremely comfortable in every aspect except for lack of lumbar support.After a couple of months use of the new chair, I started to experience some back pain.I tried pillows, folded towels, etc.Nothing worked and the pain was getting worse.I ordered and used this pillow and within a week of continued use, the back pain was gone completely.
Great back support
I have this on my office chair and it is amazing! After sitting back against it for a few days I noticed considerable less pain in my back. I highly recommend this to any who have back pain.
Best. Back pillow. EVER!!!
I have had serious lower back issues for about 36 years now, so I've had 'many* a lumbar support pillow. I'm giving you that bit of my history so that you know when I say I *love* this pillow, it's the best damnedpillow I've ever had in my *life*, you know I have a lot of experience, so I _just_ might know what I'm talking about. If you need lumbar back support, you won't find a more comfortable, more supporting, *nicer*-looking pillow! It's well worth the price. ****, it'd be worth buying if it was half *again* as much! You're doing your back a favor if you get this pillow. Seriously.
Adjustable lumbar pillow
This back pillow is very supportive. It includes 2 extension straps if you want to put around a very large chair. The straps are elastic, so they do provide a stretchy fit. I did not need the extension straps for my chair, but like the option to be able to use on a larger chair in the future. Lumbar support without buying a new chair. I have been using this item for about a week now, and no complaints so far.
Wondering how I ever did without this
I bought a cheap Ikea office chair a few years ago and was getting tired of the lack of back support, and the pain that it caused. Didn't want to shell the money for a chair with actual back support as they're very expensive so I found this product which can simply attach to any chair I already owned, and it makes the sitting experience so much more comfortable. I'm slouching much less now which significantly improves my posture. If you're not happy with your chair, get this.
Comfortable & does not slide around
I have been using this on my office chair and I absolutely love it.I had a variety of regular, small sized pillows and cushions on the back of the chair before this with no back supporting contour at all and it always fell over when I got up or slid from side to side when I needed to adjust my sitting position; quite annoying and a bit time consuming. This cushion fully RESOLVES the issues I had with previous cushions or pillows as it has dual straps that hold it to the back of the chair and more importantly, its contoured to provide the correct curvature of proper spinal support.Its very soft to the touch, yet firm enough to provide the support most chairs do not have.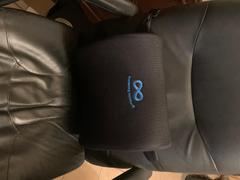 Additional Information
 Do you notice that your low back aches at the end of a long day? Do you find yourself slouching over your computer, unable to maintain good posture? Do you wish there was a way to make your workplace setup more ergonomic and healthy?
If any of this sounds familiar, you may need a lumbar support pillow. Read on to learn more about these cushions and where to place lumbar support in your office chair.
What Is Lumbar Support? 
Before we dive into how to position your lumbar support pillow, let's talk some about what lumbar support even is. Your lumbar region is the area of your back between the bottom of your ribcage and your hips. It's the area of your spine that curves in before extending down into your tailbone.
Lumbar support is designed to match that curve in your back and help support your spine. It sits flat against the back of a chair or seat and fits into the curve of your low back. This can help relieve strain and pressure, giving your back muscles a time to heal and strengthen.
Why Is It Important? 
Making sure your low back is supported can be one of the best ways to reduce any back pain you may be experiencing. You may experience a strain or injury that causes your low back to start hurting. This can throw off your posture, which can place further strain on your spine, and the cycle continues.
Lumbar support gives your back a chance to heal and recover. Your muscles will be able to relax and strengthen on their own, making it easier to maintain good posture throughout the day. This can also help treat low back pain and even strengthen your spine to prevent future injuries from occurring.
Importance of Good Posture 
We all have a vague idea that practicing good posture is a good idea, but do you know why? This is about more than just making a good impression or following outdated etiquette rules. Good posture can actually have an impact on how much pain you're living with.
When you practice bad posture, it places strain on your back, which can put you in pain. In order to compensate for that pain, you may begin to practice worse posture, placing further strain on your body. Over time, your muscles become too weak to keep you in a good posture, and you wind up in a vicious cycle of pain and slouching.
Impact of Back Pain
Many of us may think of back pain as no big deal—it's something we all deal with as we get older, and most of us pop a couple of painkillers and move on with our day. But back pain, especially chronic back pain, can have a much more serious impact.
When you're living with back pain, you may not want to go do the activities you once loved because they cause you pain. You may even have trouble keeping up at work or may begin to withdraw from your family and friends. Over time, you may become isolated and lonely, which raises your risk of depression and anxiety disorders.
Where to Use a Lumbar Support
Many of us think of lumbar support pillows as something to be used at work in our office chairs. And this is certainly a good place to start. You spend as much time sitting in your office chair as you do anywhere else, and it's a good place to start improving your support and posture.
But you can and should use a lumbar support pillow nearly everywhere you sit down. You may want to use one in your car, especially if you have a long commute, and you should definitely get one for your favorite chair at home. Some people like to use them while traveling or even for some extra support in bed.
What to Look for in a Lumbar Support 
There are a few things you should look for when you're shopping for a lumbar support pillow. For one thing, check if it has a removable cover for easy cleaning. You're also going to want something breathable that won't get too hot when you're leaning against it all day long. 
Most importantly, you should make sure your lumbar support pillow is made from memory foam. We'll talk about all of the memory foam's unique properties and benefits in a moment. But a memory foam pillow can provide you the best gentle support for your lumbar region so it can heal and strengthen.
What Is Memory Foam?
Memory foam is a kind of dense polymer foam that can be molded into a variety of shapes. You may hear this referred to as viscoelastic foam, though this is just a fancy way to say "memory foam." The term viscoelastic refers to memory foam's remarkable ability to bold to your shape and hold that impression for a time without collapsing entirely under your weight.
This viscoelastic property is thanks largely to one of memory foam's cooler features. As memory foam absorbs your body heat and warms up, it becomes softer and gives way under areas of highest pressure. However, it doesn't give under lower pressure areas, allowing it to mold perfectly to your shape. 
Benefits of Memory Foam 
There are a number of reasons memory foam makes a great lumbar support material. When you're trying to support your lumbar region, the last thing you want to do is put excess pressure on your spine. A memory foam pillow will give way under the bones of your spine while still supporting the muscles in the rest of your back. 
Memory foam can also help to improve your circulation. Because it distributes pressure more evenly, no one spot in your back gets its blood vessels squished, cutting off your circulation. If you work a desk job, improving your circulation can be very important for lowering your risk of deep vein thrombosis. 
How to Clean Memory Foam
Even if you have a lumbar support cushion with a washable cover, you may still need to clean the pillow itself from time to time. Begin by removing the cover and running a sink or tub full of warm, not hot, water. Add in a few drops of gentle laundry detergent and swirl to mix it into the water.
Place your memory foam cushion in the water and squeeze it to get the pillow thoroughly soaked with soapy water. Then drain the sink or tub, run it full of clean, cold water, and rinse your pillow until the water runs clear. Roll the cushion in a towel and squeeze as much moisture out as possible, and then let it air dry for up to twenty-four hours.
Set the Lumbar Support Pillow in Your Chair
When you get ready to start using a lumbar support pillow, the first step is to set it in the right spot on your chair. Your cushion may have one end that curves out slightly more than the other. If this is the case, put the more curved end down and set the pillow so the flat side is against the back of your chair.
You want to set your lumbar pillow so that it sits between the bottom of your shoulder blades and the top of your hips. This will be a few inches off the seat of your chair; you may need to experiment to find the right position for you. If your lumbar support has straps to hold it in place on the chair, adjust those at this time.
Adjust Your Chair Height
Once you've got your lumbar support in place, you need to make sure the rest of your ergonomic setup is adjusted properly. Begin by adjusting the height of your chair. You don't want to focus on whether your feet touch the floor; instead, take a look at where your arms land on this chair. 
You want to make sure that when you're sitting in your chair, your shoulders are down and relaxed, your elbows are at right angles to your forearms, and your wrists can rest comfortably on your desk. You may need to get a footrest in order to support your legs at this height. This will help prevent shoulder and elbow strain, as well as back issues.
Adjust Your Monitor Height 
You also need to take a look at your monitor height while you're making your office adjustments. Many of us spend our days hunched over to see our computer screens. The places strain on your upper back, no matter how good your lumbar support is. 
Adjust your monitor so it's in line with your eyes when you're sitting up straight in your chair. You may need to place it on top of a stack of books or a box to get it to the proper height. You can also get adjustable monitor stands that move with you and make it easy to show your computer screen to anyone you may be meeting within your office.
Adjust the Arms on Your Chair 
Finally, it's time to take a look at the arms of your chair. The arms should be low enough that your elbows can rest comfortably on them when your shoulders are down and relaxed. However, your elbows should also not be dangling an inch off the armrests.
If your chair does not have adjustable armrests, you may consider getting a seat cushion. This can buy you a few inches in addition to keeping your hips in proper line with your back. Just make sure you have enough foot support that you can keep your hips and knees both at right angles. 
Other Workplace Supports
In addition to your lumbar support pillow, you may want to look into getting some other memory foam supports for your office setup. For one thing, an ergonomic chair cushion could make your workdays much more comfortable. If you have problems with tailbone pain, look for a cushion with a coccyx cutout that will give your tailbone space to heal.
You may also want to look into getting a footrest, especially if you're a shorter person. These can help you get your knees to the appropriate angle with your hips without sacrificing your upper body alignment. A neck cushion can also help to get rid of tension headaches and ensure your head gets the support it needs throughout the day.
Using Lumbar Support Outside the Office 
Once you have your lumbar support set up in your office, you may want to start getting more pillows to use in other areas of your life. We would recommend starting with your favorite chair at home. Position your lumbar support there the same way you did in your office chair and watch how much your posture improves.
You might also want to set up lumbar support in your car, adjusting the straps as needed to fit around your car seat. And if you're a frequent flyer, consider getting lighter lumbar support to carry with you on trips. It can make those long international flights much more comfortable, ensuring you arrive well-rested and pain-free.
Learn Where to Place Lumbar Support
Adding a lumbar support pillow to your office setup can help relieve back pain and improve your posture. But knowing where to place lumbar support is key to using it properly. Aim to place it between your shoulder blades and your hips, and adjust the rest of your setup accordingly.
If you'd like to discover more tools to help you live a pain-free life, check out the rest of our site at Everlasting Comfort. We have everything from pillows and cushions to essential oil diffusers and humidifiers to keep you living in the lap of luxury. Shop our collections today and discover what a life of utmost comfort can feel like.