Memory Foam Airplane Travel Pillow Kit
Memory Foam Airplane Travel Pillow Kit
Bundle and Save 15%

Memory Foam Airplane Travel Pillow Kit
Free Shipping
Lifetime Replacement
Highly Rated
Whether it be by plane, train, or automobile, traveling can be tough on the body, and the constant sitting and lack of movement are torture on muscles and joints. To help make your travels more comfortable, we designed our travel airplane pillow to reduce and manage neck, head, shoulder, and upper back pain caused by prolonged sitting. Neck tilt, stiffness, and constant pain can do irreparable damage and cause you to suffer when you should be engerized and ready to see the world.

We make our travel pillow from 100% premium memory foam. The memory foam's natural body heat-responsive qualities help the pillow mold perfectly to your neck and head to provide the maximum amount of support. The ergonomic raised lobe design supports your neck while leaning back and is ideal for those who prefer relaxing their heads in various positions. To secure the pillow and make sure it doesn't shift, we added an easy to adjust drawstring that lets you create the perfect snugness. And if you're worried about your cellphone playing hide-and-seek while you doze off, don't! We added a unique storage pocket that is perfect for holding your cellphone or other small valuables.

The ultimate travel-ready bundle needs to include more than merely a neck pillow for traveling. That's why we created a complete kit that promotes total relaxation while you head to your destination. You'll receive memory foam earplugs to block out noise, a padded adjustable eye mask to block out light, and a travel bag to easily carry everything with you while you're on-the-go. All you need to do is pack the kit pieces in the travel bag, attach it to your luggage, and you're ready to go.

We care deeply about our products living up to a lifetime of use. That's why we made the plush velour cover easy to remove, machine washable, and dryer safe. And to back up your new travel companion's quality and durability, we include our Everlasting Comfort Lifetime Replacement Policy. If anything should happen to your memory foam travel pillow, we will replace it for free. Take your next trip from painful and miserable to extraordinary with the Everlasting Comfort Travel Neck Pillow!
Does TSA or airline count it as a separate piece of carryon luggage?
No, our neck pillow will not be counted as a separate carry-on piece, it should be allowed.
Is this pillow useful on subways, buses, and other types of transportation?
Yes, our neck pillow is versatile and should be good for any type of transportation.
What exactly is it stuffed with?
Our neck pillow is made from 100% premium memory foam covered with a plush velour cover
Can you wash it?
Our neck pillow comes with an easy to remove cover that is machine washable and dryer safe (on low heat or tumble setting).
Does it clasp in the front?
It does not have a clasp, but it does comes with a draw string for tightening it to your ideal comfort level.
How to use a travel pillow
Travel pillows wrap around the neck for additional comfort and support.
Are you allowed to bring pillows on planes?
Yes, travel pillows are a common carry-on for planes.
How do you sleep with a travel pillow?
The Everlasting Comfort Neck Pillow is ergonomically designed to support the head for comfort and relaxaction.
Is it good to sleep with a travel pillow
Unlike other neck pillows, the Everlasting Comfort Neck Pillow is gel-infused and ventilated for comfort, while its ergonomic design provides maximum support.
Are travel pillows good for your neck?
The Everlasting Comfort Neck Pillow features an ergonomic design that provides optimal neck support and comfortability.
Does a pillow count as a carry on?
The Everlasting Comfort Neck Pillow comes with a carrying bag and is 12 inches wide.
Is a travel pillow worth it?
The Everlasting Comfort Neck Pillow features gel-infused memory foam, making it a comfortable relaxation accessory.
Are neck pillows good for travel?
The Everlasting Comfort Neck Pillow's memory foam is gel-infused making it a comfortable travelling accessory.
Can you use a travel pillow in bed?
The Everlasting Comfort Neck Pillow is comfortable enough to use in bed.
Warranty Information
Everlasting Comfort® products come with our Lifetime Replacement Policy from Upper Echelon Products.
For ANY quality-related issues, we will send you a replacement for free!
Please note that this warranty is not valid unless the item is purchased directly from Everlasting Comfort® and registered under our warranty.
Upon receipt of your purchase, you need to register your product on our website. To register your product, click here.
For any inquiries regarding our warranty or registration, please email support@upperechelonproducts.com with your name and order information (if applicable), and we would be happy to assist you further.
To redeem a replacement under warranty, please email us the following information:
-Order Confirmation/Order ID
-Product Name/Title (in cases of multiple orders)
-Brief description of the issue(s) along with picture(s) of the damage (if applicable)
Disclaimers

The above guarantee is against defects in materials and workmanship. If anything goes wrong with your product, we will send you a replacement for free. The lifetime warranty does not apply to electronic products which come with a 2-year warranty.
Current products with 2-Year Warranty include:
Non-returnable items:
Return Policy
We offer a free 30-day Return Policy for undamaged items. You can return your product for EC-store credit, a different product (Exchange), or a refund to the original payment method.
Refunds or EC-store credit will be processed upon the delivery and processing of the item(s).
For exchanges, we will ship your new item once the original item is received based upon your original exchange request. Exchanges are for products of equal or lesser value.
Please note the following exceptions to our return and exchange policy:
Returned items must be returned in the original packaging
Returned items must have no visible signs of wear or use
Exchange is only 1 item per Order with a product of equal or lesser value. Only rare exceptions will be made to this policy.
Gift Exchanges are only applicable if provided the Order Number as proof of purchase and is applicable for an Exchange of product(s) of equal or lesser value OR applicable for EC-store credit.
Questions? Get in Touch.
To initiate a Return or Exchange, please complete the following steps:
-Contact us by email at support@upperechelonproducts.com with your Order Number and specify the item(s) you wish to Return OR Exchange.
-Print the prepaid USPS Return Label that you will receive from our Customer Support and mail back the item(s) using the prepaid Return Label.
-Refunds or EC-store credit will be processed upon receipt of the item(s). For exchanges, the new item(s) will be shipped upon arrival of the original item(s).
Disclaimers
If wishing to exchange item(s) of greater value than the original item purchased, we will provide EC-store credit which may be applied to the purchase of your new item(s).
ERGONOMIC RAISED LOBE DESIGN
ADJUSTABLE DRAWSTRING STRAPS
Free Shipping
Get Free Domestic Shipping on All Everlasting
Comfort® Products.
Lifetime Replacement
Everlasting Comfort® Products
come with a Lifetime Replacement Policy.
Highly Rated
As an American brand, we are highly recommended
beyond our borders by health conscious individuals
just like you.
Reviews
Customer Reviews
Write a Review
Ask a Question
07/21/2020
Vlad

United States
The Most Comfortable Neck Pillow
Feels Absolutely Incredible. I didn't get the Travel Neck Pillow Kit for Traveling, I got it for relaxing at home and supporting my neck after experiencing whiplash and I must admit the pain in my neck went away after sleeping with it for a few nights and wearing it around the house. Also, the Eye Mask and Ear Plugs helped me fall asleep faster and helped me take intermittent and much needed naps throughout the day. I highly recommend this Neck Cushion/Pillow for immediate pain relief and neck support!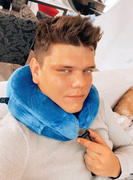 Best for long haul flights and non sleepers
Beat purchase EVER! I never ever sleep on flights and traveling home to London from Miami I always have that 8hr overnight flight when I visit. With this neck pillow it is the first time I've slept on a plane for a solid 5 hours. Managed to stay awake for the whole day when I landed at 10am in the morning which is a god send!
04/06/2020
sue

United States
Super comfortable!
My previous travel pillow was destroyed by my dog. I wanted another one like it. I came across this one and decided to give it a try. Everything was as described in the ad. No problems with packaging. Since we are currently on lock in, I'm not traveling. So to test it, I slept with it on overnight. I had a great nights sleep. The pillow is super comfortable.
04/03/2020
RK

United States
Really nice choice.
I was very surprised. It's hard to judge things like these when you can't feel them in person. It turned out to be the right amount of firmness for me. And the size was good.I was concerned it would be a struggle to get it in back into the carry bag but that wasn't a problem. The royal blue color was really pretty.I'm really happy I bought this one.
03/06/2020
J.L.

United States
Very supportive and comfortable
I have at least a dozen airline pillows, but they're all the ****** 'cotton batting' filled ones that I always buy at the airport for $20 because I forgot mine at home. Those are so soft and mushy that I need to double them up to get enough support for my head, which kind of defeats the purpose of being able to put it around your neck. But not this one! It's extremely supportive, and the soft cover is very comfortable. Now I just need to remember to bring it with me when I fly! :)
02/24/2020
Jill C.

United States
A Better Travel Pillow
I worked in 22 states for 18 years and did a LOT of sleeping on planes.I have tried a number of different neck pillows and I like this pillow best for a number of reasons. The memory foam adapts to my neck and shoulders, making a perfect fit and supporting my head and neck as I sleep, even in a middle airplane seat where there is nothing to lean against. Most pillows are too thick behind my neck but this one is thinner and much more comfortable. It is lightweight and comes with its own stuff sack. The cover is removable and machine washable.As a bonus, it comes with an eye mask and ear plugs.I'm very happy with this travel pillow. Give it a try and I think you'll agree!
02/21/2020
Shas

United States
Great support for my neck
It is high quality and super nice. I used it on my travel to Bahrain which was a 19 hour flight and it supported my neck throughout the journey. I was able to sleep through the plane and it provided great support for my neck.
02/21/2020
CaptainPhysics

United States
Pillow and all you need to zzzzz
I really like that this pillow comes with mask and plugs and fits into a bag. The pillow is comfortable and the foam feels nice. My only small complaint is that it is a little bulky and doesn't break down at all. But that is probably due to the quality and nature of the foam. I recommend.
02/18/2020
Kimberly H.

United States
Feels like your neck is on a cloud!
When I first received this product I was so impressed with the packaging because packaging is everything! I took the pillow out of the bag and o my goodness it was so soft. I immediately placed it around my neck and fell in love. In order to open the clasp you just pull it apart. So once it was around my neck I closed the tabs together and tightened it and it made the pillow even more comfortable and snug around my neck. To make this even better this set comes with an eye mask and ear plugs. I recommend this company 100%
02/13/2020
The L.

United States
My Wife Loved Having this Pillow
My wife recently used this on the return portion of our flight and she absolutely loved it. I had packed it for the entirety of the trip, but she didn't want to use it for the outbound flight. I don't know why, she just declined to use it. Then she took a little nap on the plane and work up complaining of a stiff neck. On our return flight home, I offered it again and when I reminded her about her stiff neck, she immediately agreed to use it. She said it was wonderful to nap on and was mad for not using it on the outbound flight. My only complaint is that this thing is a little bulky, but it comes with a long nylon drawstring which was convenient for tying to my carry-on roller bag so I didn't have to keep it stuffed in my backpack the entire trip.