Hypoallergenic Pillow Covers
Product Description
Waterproof Protector For Pillows
Pillows absorb all kinds of irritants and allergens, and a measly pillowcase isn't going to protect it for long. Dirty pillows can lead to irritation of the skin and an uncomfortable sleep setting, as well as contain dangerous mold that you can't detect,  which is why you need the Everlasting Comfort Waterproof Pillow Protector.

This pillow protector is much more than a pillowcase--it keeps your pillow clean and free of any allergens, dirt, or seat that may come off your body as you sleep. Not only that, but it's way more comfortable than a regular pillowcase and can actually improve your sleep habits. If you have a nice pillow that you want to protect, there's no question you need this product. Let's take a close look at the unique benefits of the Everlasting Comfort hypoallergenic pillow protector.
-Completely waterproof
Having a 100% waterproof pillow cover can make a world of difference. This cover will keep dirt, grime, and bodily fluids away from your pillow so it stays clean way longer. Say goodbye to dirty, stained pillows when you use this premium pillow protector.
-Hypoallergenic and breathable
The material used for this pillow protector is hypoallergenic and breathable, so you'll feel completely comfortable while you sleep at night. The breathable membrane of this pillow protector allows for maximum airflow to prevent any mold from developing on your pillow.
-Made with 100% cotton
The Everlasting Comfort Pillow Protector is made from soft, premium cotton, and nothing else. You'll sleep better each night just from resting your head on this comforting material. The premium cotton allows for maximum comfort while protecting your pillow from allergens.
-Fully encloses your pillow
With regular pillowcases that you slide on, your pillow will still be exposed to dirt and bodily fluids, which makes it dirty and unusable really fast. When you use this pillow protector, your pillow will be completely encased and protected from the outside world. That means your pillow will be safe from things like bed bugs, fleas, or any other unwanted specimen.
-Lifetime replacement guarantee
This pillow protector was made to last, but if anything ever happens to your Everlasting Comfort pillow protector, you can rest assured you won't be without your pillow protector for long. We will send a free replacement right away!
This pillow protector is machine-washable and easy to remove from the pillow, so you'll never be left sleeping on a dirty pillow again. By using this clean and comforting protector, you can prevent skin problems, keep your pillow clean, keep bed bugs away, and greatly enhance your sleep experience. If you want to ensure your pillow is clean and safe to use, this product is essential.
Purchase your Everlasting Comfort Waterproof Pillow Protector today and don't spend another second using your old, grimy pillowcases. Treat your pillow the right way when you use this premium pillow protector. It's time to upgrade your bed and your sleep habits with this incredible product.
FAQ
Q: Is this one pillow case, or a pair as people would typically expect?
A: Each purchase gets you two pillow protectors. They're sold as a set.
---
Q: What are the sizes for? King/Queen/standard?
A: The Everlasting Comfort pillow protectors come in three different sizes- standard, queen, and king. The standard size measures 21" x 27". The queen size measures 20" x 30". The king size measures 20" x 36".
---
Q: Does this pillow protector have the plastic enclosure for the zipper to fully seal the pillow?
A: Our pillow protector comes with a secure fully enclosed zipper.
---
Q: Are these pillow protectors liquid/water proof?
A: Yes, the Everlasting Comfort pillow protectors are 100% waterproof.
User Reviews
Customer Reviews
Write a Review
Ask a Question
These are the best Pillowcases!
We finally found truly comfortable pillows (after many that weren't), and we really wanted to take care of them.I found the Everlasting Comfort Waterproof Pillowcases just searching through Amazon.They looked promising, and I ordered two King-size cases... I gotta tell ya - these are absolutely the best I've ever seen.They're very well made; totally water resistant, and the soft terry cotton material on the outside of these made our new awesome pillows GOLD (we sleep so good)!!! NOTE: We wash these warm, gentle cycle with our sheets - with an extra spin at the end.Before going in the dryer; we simply turn them inside out (waterproof material out) and gently shake off any residual water.Then; we turn them cloth-side out again and dry them with the sheets ON LOW HEAT.It works perfectly!
Perfect for bed wetting
These are perfect for my toddler who just started ***** training. They keep her pillows nice and dry. I love them so much I'm buying a second set!
Peace of mind
I recently bought 2 very expensive pillows and I wanted to make sure that they were protected from accidents. The pillow protectors are very well made. They are soft, not slippery, and don't make any noise. I am very satisfied.
04/14/2020
This G.
United States
Good as advertised
I have a history of nosebleeds and bleeding through pillowcases and onto my pillows. I bought this in the hopes that in the event of a nosebleed, this will help. Today, I had a minor nosebleed that bled on my case. I checked the fabric and it caused a small stain on the case. I took the pillow out of the case and there was no blood on the pillow. Additionally, I used a stain remover and got the blood out in five minutes. It was a great purchase.
04/07/2020
Patty f.
United States
Impressed with quality
Very high-quality, very soft, true to size. After being allergy tested I found out I am very allergic todust mites. I did a though cleaning and washing. I ordered the queen size cases and they are nice and large. I am A highly critical Person and very happy with this product! Typically I don't have time to write reviews but I do read them prior to purchasing. Currently Sheltering in place and no more dust mites!
01/13/2020
Shannon P.
United States
Great protector
I bought these after purchasing some very expensive pillows in hopes that they would help extend their life. The pillow protector works great! It is a little 'noisy' when you rub it together or by itself but once it is on the pillow it does not make any noise. I don't mind the terry material as it is under my pillow case, the zipper is convenient and closes easily.
09/28/2019
Mark M.
United States
Everlasting Comfort Pillow Protectors keep my High Dollar Pillows Protected! Excellent Service!!
Everlasting Comfort Pillow Protectors arrived to protect my new Bamboo (feels like Feather) Fiber Pillows.So, I had to pull the trigger on some new Pillows after a decade of using my favorite pillows.So, I bought some fairly expensive 'Luxury Hotel' style pillows with a unique bamboo fiber that is soft and breathable.I wanted some equally 'tech' style pillow protectors and after reading the reviews bought these terry cloth exterior with a breathable/waterproof membrane to protect my satiny looking new pillows from sweat stains and accidental spills when snaking in the bed.Hmmmm,,, so,,, I like the looks and they have a lifetime warranty, but wait,,,, is that a defect in the zipper and I've just opened the packaging??Yep... Defective on arrival.These covers come with a lifetime warranty, but, for $15 I'm not gonna spend much more time dealing with it. However, I get an email from Everlasting Comfort wondering if I've received my order and whether I'm pleased?I write back telling Rebecca I'm pleased with one case, but, the other was defective and quality control should be improved before sending them to customers.I'm not interested in invoking a 'lifetime warranty' and will just make do with one case's zipper not actually enclosing the pillow.And then Rebecca takes over and replies, 'Your replacement cases are on their way.'That was it.No begging, no photos or videos, no send back the old cases and when we receive them we will send you the replacement.Just, good ole customer service!! About 4 days later I received my replacement pillow protectors in perfect condition and now have an extra set.I applaud customer service on such a small ticket item.I got what I paid for without a hassel. Everlasting Comfort stands by their product and customer service.I highly recommend buying from such a company.The product is exactly as descrived in function and if a defect is discovered, Everlasting Comfort will make it right!What more can you ask for?
04/24/2018
Alejandra V.
United States
I love this pillow protectors I bought 2 packages a total ...
I love this pillow protectors I bought 2 packages a total of 4 pieces back in May 2017.My son had a bad bloody nose while still in bed and nothing went through on the pillow.I just purchased another set Just a few days ago April 2018. I want to keep all of our pillows protected. They are not noisy or anything and they feel like a towel material. I will buy more if I happen to get more pillows. Here is a picture of the inside of the protector coveryou can see how nothing went through. Great buy.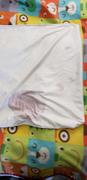 09/05/2017
Jennifer P.
United States
'Heavenly Bed'
A few weeks ago my partner and I stayed at the Wyndham and realized just how AMAZING their beds were. Since then, I've made it a mission to make our bed into the "Heavenly Bed". I started out by purchasing new pillows (WENERSI Luxury Hotel White Goose Down Pillows). Since they recommend getting them professionally dry cleaned, I did not want to run the chances of having to take them in often. Therefore, I decided to purchase this set of pillow protectors. I received them on time! I washed them AND AIR DRIED them before putting them on my brand new pillows. The size of the pillows I bought were Queen (20x28 inches) and the Standard size (21"x27") pillow protectors fit them perfectly! I am yet to find out whether or not these pillows are 100% waterproof. So far, they have done the job for which I initially bought them for. Besides my pillow protectors arriving on time and protecting my brand new pillows I want to rave about the customer service! I placed my order on Friday and received them on Sunday (Amazon Prime). Since then the dealer has already reached out to me TWICE to make sure that all is well with my order! THAT sealed the deal for me! I definitely recommend these pillow protectors. Price was perfect for a set of TWO.
07/26/2017
Smutty
United States
Worthwhile investment
As others have mentioned these pillow protectors have a great outer material.It doesn't sound or feel like there's any plastic between my cranium and my $50 lights out sleep investment.Made the mistake of not protecting the previous one not realizing it wasn't machine washable.These are well worth the money and will certainly pay dividends especially considering the alternative is to buy a new pillow if your "the one" is even still available.