Hypoallergenic Waterproof Mattress Protectors
Product Description
Protecting your bed from allergens, fluids, dirt, and insects is vital when it comes to sleep hygiene. The last thing you want is to spend weeks sleeping in a dirty bed that is not only uncomfortable but can also pose potential health risks. Regular mattress pads and pillowcases can't hold up and often let dirt and grime through to your mattress and pillows, which is why you need the Everlasting Comfort Waterproof Mattress Protector and Pillow Protectors.
With this package, you'll get a mattress protector perfectly sized for your bed and two pillow protectors to keep your bed completely clean and clear of unwanted fluids and dirt. These protectors are specially designed to keep things such as pollen, dust, bacteria, and mold from growing on the fibers of your bed. Additionally, these hypoallergenic mattress protectors will protect your bed from a bed bug infestation.
Let's take a closer look at the unique benefits of this package:
-Complete set
If you buy the full, queen, or king-size set, you'll get one mattress protector and two pillow protectors. With the twin-size package, you'll receive a mattress protector and one pillow protector.
-100% waterproof
Both the mattress protector and the pillow protectors are completely waterproof, which means sweat and other bodily fluids won't make their way through to your mattress or pillows. This protects your bed from mold and bacteria growth.
-Double layer protection
With this mattress protector, you'll get twice the protection when you combine your fitted sheet with this thin, breathable cover. That means grime, dirt, and dust don't stand a chance at infiltrating these layers and getting to your mattress.
-Hypoallergenic and breathable membrane
This product has a hypoallergenic membrane that is breathable and allows air to pass through, keeping fluids, mold, and bacteria away. You won't have to worry about pollen sneaking into the fibers of your mattress, which means you can say goodbye to nights full of sneezing and a runny nose.
-Maximum comfort
This product provides maximum comfort and protection without the use of any harmful materials. You'll sleep better than ever once you slide the mattress protector and pillow protectors on your bed.
-Machine-washable
The Everlasting Comfort Mattress and Pillow Protectors are easy to wash. Simply put it in your washing machine and use cool water, followed by a normal tumble dry.
-Lifetime replacement guarantee
If anything happens to your mattress protector or pillow protectors, we've got you covered. We'll send replacements free of charge right away.
It's time to say goodbye to dirty, grimy beds and start treating yourself the right way with the Everlasting Comfort Mattress Protector and Pillow Protectors. This package will protect your bed from bacteria, mold, dirt, and fluids so you can rest easy in a clean, fresh bed. 
Not only will you feel more comfortable and have a better night's sleep, but you'll be safer and won't have to worry about breathing in anything harmful from your mattress. Buy yours today to improve your quality of sleep and promote a healthier sleeping environment.
FAQ
Q: Can this be washed in hot water?
A: Cold to hot water with detergent is ok. Line dry preferred. Don't use heat in dryer.
---
Q: Can this be used on a memory foam mattress?
A: Absolutely
---
Q: Are the sides stretchy material?
A: Yes, our mattress protector is a fitted sheet with elastic edges that easily stretches to fit your mattress.
---
Q: Anyone know of this will fit a 15" mattress? Also, does it make noise when you move around on it?
A: Yes it will fit and that is the best thing it is so quiet!!
User Reviews
Customer Reviews
Write a Review
Ask a Question
Good quality, true to size, good fabrics
Excellent mattress protector. Been using two weeks without any issue. Kids spilled drink, milk , none penetrated even a little. Nice fabrics, breathable. Fits well to the size. Works like a fitted sheet. As a bonus you get two pillow protectors which are very useful. Definitely buying for my other mattresses in the house.
Got the job done!
OMG this is the beat thing I've purchased for my bed to date! With our 1yr old daughter in our bed accidents are bound to happen. This has lived up to its name and PROTECTED not only my mattress topper butmy mattress! Totally satisfied and recommend this to anyone
Much better quality, easy to get on!
This mattress cover is just what I was looking for. Quilted, no noise, waterproof and fits perfectly without the fitted sides being too baggy. Got 2 Queens for another bed! Prompt delivery as well! Fit my mattress perfectly. Soft and feel comfortable. This mattress pad is well made, comfortable to sleep on, and fits our queen size bed perfectly. Highly recommended. Right out of the package, it's soft and flexible, not crinkly like some waterproof covers can be.
Best Training Sheet
This is the best sheet for helping me train my son for getting up for those late night bathroom breaks. It is not thick and loud when moving on tthem which I was hesitant about. It is great quality! I also love that it is easily removable for easy washing and the pillowcase that come along with the sheet. Definitely recommend.
Works very well
We just got my daughter a big girl bed and needed a mattress cover for it. Someone suggested this one to me, so I ordered. I could not be happier with my purchase. We have had 3 'accidents' and this mattress cover has saved our mattress from getting wet and stained. I would highly recommend it, the quality is excellent and it is very well made.
Nice fabric feel and breathable.
We just got a new mattress and so I wanted to make sure it stays clean and protected. I've seen a lot of water proof mattress protectors that have the feel of a plastic shower curtain. This one does not. It's soft and while it does breathe it is close to air tight. I wondered how they accomplish this without making it completely out of plastic. I have a magnifier app on my phones camera. I snapped a very extreme close up of the material. You cannot see this with your eyes unless you get very close and it is still a lot smaller than this photo shows. It is a very tightly woven material of some sort. That's how it can be breathable and Waterproof all at the same time. The material reminds me of a winter coat I used to own that are also Waterproof. I used to lay in the snow with that on and stay completely dry. All of the mattress protectors I've seen at local stores came with just the mattress protector. This one included two pillow protectors for standard pillows for about the same price. That was enough to make me buy this protector.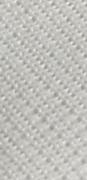 05/27/2020
crystalbluediamond... Nancy H.
Looking for waterproof along with comfort....look no further...this is for you!!!
This truly is a nice mattress cover...protector...it is made of very soft ,smooth fabric and it protects your mattress from spills, or whatever may happen...The elastic(as seen the pictures) goes all the way around so it stays nice and tight on the bed...It is comfortable and doesn't make the noise that I have had from other protectors that were waterproof..where ever time you turned you would hear the rumbling of the plastic liner....this is not like that...it is great for a good night's sleep...tends to keep you cooler and I like that.I would recommend this item..and the fact that it comes with 2 pillow protectors as well. ...(the zippers are nice quality...nothing like I have ever seen before) .. as shown in the photos ....they are a nice addition to your mattress cover!5*s!
Not crunchy nor changes the comfort of the mattress!
Best mattress protector I have used yet! I had another that I thought was similar and it was nice as it incased the whole mattress. However it did not have as much flexibility as this one and made the mattress feel hard and not squishy anymore, causing back pain. This one has very deep pockets, so it does stay put! And I have a 12in memory foam mattress along with a serta gel infused memory foam topper which is 4 inches. And it still doesnt compromise the comfort and squishiness of the topper at all! Other protectors arent even a comparison as they are the gross plasticy ones. We knew we needed one for ***** training as we are bedsharing for convenience with a child who is 3 years old. But after washing it and seeing how it looked in water, I can see it is legitimately water resistance if not waterproof. Either way, even if it let's some liquid through. It still is worth it for the comfortablibily factor as I wouldnt want a painful back every night just to protect against a potential accident. We will be getting one for our daughters own bed once she transitions into her own bed. In the pictures, I dont have it pulled totally tight, for comfortabiliy and flexibility... but it shows there is still plenty of fabric under the mattress and wont come off easily when you dont want it to.
Perfect fitting, worth every penny
We were intially doubtful if cover will fit our mattress, but the protector is really perfect and it should fit any queen mattress. Also with lot of accidents in past, we wanted to make sure if its really water proof and we tested it, it passed the test. We love it.