Ultrasonic Cool Mist Humidifier 6L
Ultrasonic Cool Mist Humidifier 6L
Bundle and Save 15%

Ultrasonic Cool Mist Humidifier 6L
Cool Mist Ultrasonic 6 Liter Humidifier
Improving health and wellness are two core concepts that drive everything we do at Everlasting Comfort. That's why we created our 6L humidifier. Whether it's your desire to reduce airborne viruses and bacteria in the air or the need to create a comfortable environment that promotes comfort, our air humidifier can do it all! And when it comes to your health, our humidifiers can be a vital tool in soothing symptoms of the common cold and flu while also providing relief from asthma. Our humidifiers will help you maintain ideal humidity levels to relieve problems like dry noses, throats, and skin.

There are many humidifier choices in the market, but none boast the number of features ours does. We include a 6 liter or 1.5-gallon water tank designed to last up to 50 hours in rooms up to 500 square feet. And thanks to its variable output nozzle, our humidifier allows you to tailor the amount of moisture you want your unit to disperse. Our humidifier's foundation is the ultrasonic motor that lets you rest in peace because of its whisper-quiet operation. And to build upon this foundation, we included an essential oil tray that lets you add fresh aromas to the cool mist. It's a diffuser humidifier like never before!

We build safety and reliability into each component of our cool mist humidifier. It features an auto-shutoff function that will shut down the humidifier when it runs out of water. To ensure its safety, we partner with Intertek labs to surpass ETL certification standards on all electrical components. And if you experience any issues with your humidifier, we back you up with the Everlasting Comfort 2-Year Replacement Policy. We will replace your unit if anything should go wrong. It's our way of showing how much confidence we have in the design of our products. Stop wasting time and get the humidifier that so many have made a part of their daily routine.
Can I use tap water or does it need to be distilled/demineralized?
What is the warranty on this product?
Our humidifier comes with a 2 year warranty.
Is this a cool mist unit?
Yes and it lasts two nights for me, I love it!
Can you turn the night light off and still run the cool mist?
How many Ultrasonic cool mist humidifiers do I need for my house?
In general, a humidifier is sufficient for single rooms up to 300 square feet.
When to turn on an Ultrasonic cool mist humidifier in house
The humidifier can be used at any time, day or night.
What is a Ultrasonc cool mist humidifier?
A cool mist humidifier uses either ultrasonic vibrations or a fan to emit cool steam.
When to use an Ultrasonic cool mist humidifier
Cool mist humidifiers can be used in any environment, but are recommended for hot, dry atmospheres.
What kind of water do you use in an Ultrasonic cool mist humidifier?
Demineralized or distilled water is recommended for humidifier use.
How to keep an Ultrasonic cool mist humidifier clean
Regular weekly cleaning of the reservoir with soap and water prevents mold and buildup.
How to fill an Ultrasonic cool mist humidifier
The Everlasting Cool Comfort Humidifier fills from the three-inch hole located at the bottom of the tank.
Where to put an Ultrasonic cool mist humidifier in bedroom
For best results, keep the humidifier within 300 square feet of your most lived-in spaces.
How to descale an Ultrasonic cool mist humidifier
Practice using distilled water in the reservoir to eliminate mineral buildup. To clean buildup, use a soft brush or cloth.
What is the difference between warm and cool mist humidifiers?
Warm vapor humidifiers heat their water while cool mist humidifiers use ultrasonic vibrations to produce cool, moist air.
What kind of humidifier do I need?
Depending on your climate, warm vapor or cool mist humidifiers are available. Both produce additional mositure into the air.
What does Ultrasonic cool mist humidifier do?
A cool mist humidifier uses ultrasonic vibrations to produce cool vapor into dry, hot air.
What to look for in an Ultrasonic cool mist humidifier
Factors like cool mist or warm vapor may be features to consider, including filtered or filterless humidifiers.
What does an Ultrasonic cool mist humidifier do?
A humidifier's primary use is to moisturize the air by converting water into vapor.
How big of an Ultrasonic cool mist humidifier do I need?
The Everlasting Cool Comfort Humidifier is suitable for rooms sized 300 square feet.
How to tell if an Ultrasonic cool mist humidifier is working
A gentle mist will be present from the ventilation tube.
What is the difference between a humidifier and a dehumidifier?
A humidifier adds moisture to the air. A dehumidifier removes moisture from the air.
How often to change an Ultrasonic cool mist humidifier filter
The Everlasting Cool Comfort Humidifier requires no filter due to its ultrasonic design.
How long does it take for an Ultrasonic cool mist humidifier to work?
Initially, it may take between 1-3 hours for a 300 square foot room to be humidified.
Which is the best Ultrasonic cool mist humidifier?
The Everlasting Cool Comfort Humidifier features a filterless design and whisper-quiet motor that produces cool mist, making it a lead contender in its category.
Warranty Information
Everlasting Comfort® products come with a 2-Year Replacement Guarantee from Upper Echelon Products.
For ANY quality-related issues, we will send you a replacement for free!
Please note that this warranty is not valid unless the item is purchased directly from Everlasting Comfort® and registered under our warranty.
Upon receipt of your purchase, you need to register your product on our website. To register your product, click here.
For any inquiries regarding our warranty or registration, please email support@upperechelonproducts.com with your name and order information (if applicable), and we would be happy to assist you further.
To redeem a replacement under warranty, please email us the following information:
-Order Confirmation/Order ID
-Product Name/Title (in cases of multiple orders)
-Brief description of the issue(s) along with picture(s) of the damage (if applicable)
Disclaimers

The above guarantee is against defects in materials and workmanship. If anything goes wrong with your product, we will send you a replacement for free. The lifetime warranty does not apply to electronic products which come with a 2-year warranty.
Current products with 2-Year Warranty include:
Non-returnable items:
Return Policy
We offer a free 30-day Return Policy for undamaged items. You can return your product for EC-store credit, a different product (Exchange), or a refund to the original payment method.
Refunds or EC-store credit will be processed upon the delivery and processing of the item(s).
For exchanges, we will ship your new item once the original item is received based upon your original exchange request. Exchanges are for products of equal or lesser value.
Please note the following exceptions to our return and exchange policy:
Returned items must be returned in the original packaging
Returned items must have no visible signs of wear or use
Exchange is only 1 item per Order with a product of equal or lesser value. Only rare exceptions will be made to this policy.
Gift Exchanges are only applicable if provided the Order Number as proof of purchase and is applicable for an Exchange of product(s) of equal or lesser value OR applicable for EC-store credit.
Questions? Get in Touch.
To initiate a Return or Exchange, please complete the following steps:
-Contact us by email at support@upperechelonproducts.com with your Order Number and specify the item(s) you wish to Return OR Exchange.
-Print the prepaid USPS Return Label that you will receive from our Customer Support and mail back the item(s) using the prepaid Return Label.
-Refunds or EC-store credit will be processed upon receipt of the item(s). For exchanges, the new item(s) will be shipped upon arrival of the original item(s).
Disclaimers
If wishing to exchange item(s) of greater value than the original item purchased, we will provide EC-store credit which may be applied to the purchase of your new item(s).
REDUCES AIRBORNE VIRUSES & BACTERIA
UP TO 500 SQ FT COVERAGE & 50 HOURS OF OPERATION
Reviews
Customer Reviews
Write a Review
Ask a Question
03/17/2020
Najdek f.

United States
Ordering two more for other rooms!.
Steam starts right away and even on low setting is powerful! This has been a godsend for my toddler when he gets a cough! I put it on the floor next to his bed as he sleeps and let the steam(cold) go right to his face! He doesn't cough at all!. It's also great for the oil diffuser right now we have peppermint going! I have a large room and living room and it works great for both!.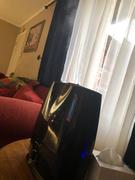 03/09/2020
Purnima

United States
Great little humidifier
This humidifier is very easy to use and hassle free. The unit requires very less cleaning. Nice and quiet so it doesn't interfere with sleep. The mist is very fine and adds the right amount of moisture to a room. The control dial allows you to control the amount of moisture and the size of the drops being put into the air. For the price this unit is better to other units in this category. Overall I am happy with the purchase. We bought this humidifier about year ago for our living room and we liked it so much we decided to buy one for our bedroom too. This one would be nice for a child's room during the winter months, or when they have a cold.
03/07/2020
C. S. Geter

United States
Best Humidifier I've tried
I love this Everlasting Comfort Humidifier. The cool mist helps my sons seasonal allergies from acting up and helps him sleep a lot better. He was having so many nose bleeds from being sick and the dry heat before we got this humidifier. Now that I run this humidifier every night he don't have any nose bleeds. I plan on purchasing another one because we need one in the bedroom & living room. I love the night light/water level light. I highly recommend everyone to get this humidifier. I've tried two others and this by far is my favorite.
03/01/2020
tanay

United States
A Good Purchase
it's a very good humidifier. With a full tank of water, it lasts up to 3 days. No noise. Two outlets for mist disperse which is very effective to spread around the house. One issue is it is very big and sometimes filling up the water is a pain but once it's filled up it last for long. Will, update later on how it last with continual use.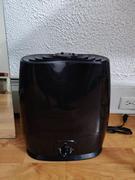 02/26/2020
Tarak N.

United States
Excellent product: Easy to use, quiet, works with tap water and reasonably priced.
I started using this around 2 weeks ago and fascinated by its silent functioning. It does its job really well, and what I find unique about this humidifier is that it doesn't require distilled water. Tap water is good enough as long as it's not serious hard water. Refilling the water tank is super easy, and the settings are user-friendly. I usually keep it running around the minimum setting, and the atomizer creates a very smooth flow of water droplets just enough to keep the room comfortable during the night. I'd have appreciated if the power cord was a little longer, I personally find the one provided to be too small.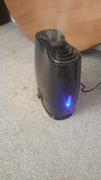 02/11/2020
JH

United States
05/04/2021
Robert C.

United States
new customer
Works very well but a major problem to refill. Handle should have been on side.
04/16/2021
Denise W.

United States
Amazing
I love it bought for my boys room asthma and allergies works wonderfully they sleep with no problems. I plan to purchase on for my room as well,very pleased.
04/06/2021
Briggette B.

United States
Great product
Fantastic Humidifier… My skin feels great the air feels clear… It's the best humidifier I've ever owned