Essential Oil Diffuser
Essential Oil Diffuser
Free Shipping
2-Year Replacement
Highly Rated
Give your home a therapeutic experience by adding aromatherapy to your indoor oasis. Experience the benefits of essential oils by soothing the mind, body, and soul with our oil diffuser. Its designed to delight the senses and create an environment reminiscent of your favorite spa or outdoor retreat. It will supply the relaxation and peace of mind you need to sleep soundly through the night and keep calm during stressful workdays.

Whether you're looking for aromatherapy benefits, or natural insect repellent, or maybe all of the above, our essential oil diffuser works to fulfill your needs. Our aroma diffuser is designed to reduce stress and anxiety, improve sleep, increase concentration, repel insects, and more. The benefits of adding an aromatherapy diffuser to your life are wide-ranging. They have been shown to help improve the atmosphere in living spaces so you can focus on your well-being.

Our air diffuser's whisper-quiet ultrasonic motor softly releases a continuous mist of water and fragrance that refreshes and purifies the air, naturally eliminating odors from pets, cooking, or other unwanted scents. Featuring a 400ml water tank and variable mist output function, our scent diffuser will last for up to 13 continuous hours. Or you can choose from several timer options (1, 3, or 6 hours). Customize your experience with 7 different color LED lights in either the rotating carousel mode or keep it static on your favorite color. And for those who prefer either a dimmer light or no light, we built-in the option to select your brightness level (high, low, or no light). We also include a free cleaning kit, so you can keep your diffuser operating at peak performance.

We make safety and security a top priority in all Everlasting Comfort products. That's why we included an auto-shutoff function that automatically turns off your ultrasonic diffuser when it runs out of water. And to ensure you are supremely comfortable with your new diffuser, we partner with Intertek Labs to test all electronic components to be ETL certified. However, if anything should go wrong with your diffuser, we back it with our 2-year replacement policy, and will replace it for free. Most other diffusers offer protection for less than a year. Bask in tranquility anywhere you choose with Everlasting Comfort's Essential Oil Diffuser.
How do you clean it and how often?
We recommend cleaning your oil diffuser after 5-6 uses. Unplug the unit from the power adaptor and remove the cover from the water tank. Pour out any remaining water. Use a damp cloth, and a small amount of mild dish soap to clean the inside of the water tank, wipe gently and dry with a clean cloth, like the one provided with your diffuser. Remember to keep water from flowing into the three-air outlets located on the bottom of the water tank, by pouring water out using the sides of the water tank. Do not use any acid or enzyme detergents, as this may give off poisonous gas and/or cause the unit to malfunction. Keep atomization piece inside of the water tank clean using warm water, mild dish soap, and the provided cleaning brush or a cotton swab. For additional information and illustrations, please refer to the instruction manual included with your product.
How long will it diffuse?
Our large essential oil diffuser provides over 13 hours of blissful aromatherapy. It shuts off when it detects a low water level. For your convenience, you can set its timer for 1, 3, or 6-hours of continuous mist.
How long is the electrical cord?
The electrical cord measures 6 ft 1.75 inches.
Do I need to add oil?
Yes, we recommend adding water and a few drops of your favorite essential oil to enjoy over 13 hours of aromatic mist.
Everlasting Comfort® products come with our 2-Year Replacement Policy from Upper Echelon Products.
For ANY quality-related issues, we will send you a replacement for free!
Please note that this warranty is not valid unless the item is purchased directly from Everlasting Comfort® and registered under our warranty.
Upon receipt of your purchase, you need to register your product on our website. To register your product, click here.
For any inquiries regarding our warranty or registration, please email support@upperechelonproducts.com with your name and order information (if applicable), and we would be happy to assist you further.
To redeem a replacement under warranty, please email us the following information:
-Order Confirmation/Order ID
-Product Name/Title (in cases of multiple orders)
-Brief description of the issue(s) along with picture(s) of the damage (if applicable)
Disclaimers

The above guarantee is against defects in materials and workmanship. If anything goes wrong with your product, we will send you a replacement for free. The lifetime warranty does not apply to electronic products which come with a 2-year warranty.
Current products with 2-Year Warranty include:
Non-returnable items:
If wishing to exchange item(s) of greater value than the original item purchased, we will provide EC-store credit which may be applied to the purchase of your new item(s).
Return Policy
We offer a free 30-day Return Policy for undamaged items. You can return your product for EC-store credit, a different product (Exchange), or a refund to the original payment method.
Refunds or EC-store credit will be processed upon the delivery and processing of the item(s).
For exchanges, we will ship your new item once the original item is received based upon your original exchange request. Exchanges are for products of equal or lesser value.
Please note the following exceptions to our return and exchange policy:
Returned items must be returned in the original packaging
Returned items must have no visible signs of wear or use
Exchange is only 1 item per Order with a product of equal or lesser value. Only rare exceptions will be made to this policy.
Gift Exchanges are only applicable if provided the Order Number as proof of purchase and is applicable for an Exchange of product(s) of equal or lesser value OR applicable for EC-store credit.
Questions? Get in Touch.
To initiate a Return or Exchange, please complete the following steps:
-Contact us by email at support@upperechelonproducts.com with your Order Number and specify the item(s) you wish to Return OR Exchange.
-Print the prepaid USPS Return Label that you will receive from our Customer Support and mail back the item(s) using the prepaid Return Label.
-Refunds or EC-store credit will be processed upon receipt of the item(s). For exchanges, the new item(s) will be shipped upon arrival of the original item(s).
UP TO 13 HOURS OF RELAXATION 
Free Shipping
Get Free Domestic Shipping on All Everlasting
Comfort® Products.
2-Year Replacement
Everlasting Comfort® Humidifier & Oil Diffuser Products
come with a 2-Year Replacement Policy.
Highly Rated
As an American brand, we are highly recommended
beyond our borders by health conscious individuals
just like you.
Reviews
Customer Reviews
Write a Review
Ask a Question
08/21/2020
Steve Z.

United States
Nice product
Looks good, works great, easy to use. I love this company, I have multiple items from them and so far no disappointments.
08/19/2020
Christi B.

United States
Smells great!
We recently moved into a new home and bought 1 to see how we would like it...well 4 later, we love them! We have one on every corner of the house and it makes the house smell wonderful!!!
Love! Love! Love!
Does everything as advertised and now that I am forced to study virtually, I spend a lot of time at my desk. The diffuser helps maintain my focus by silently pushing peppermint (choice of scent) into the air. Highly recommend and will return to website to look for other scents that can benefit my health.
05/25/2020
CAROL B.

United States
Great diffusers
I ordered two of these very attractive diffusers in dark wood and I am so happy that I did. One is in my bedroom and the other is on my bathroom counter. They are in constant use. I am happy with their attractiveness and the fact that there is quite a lot of "steam" coming from them. I am really able to detect the scent of the essential oils that I have placed in each. They run for quite a long time on the 400 ml of water that I place in each. My only regret is that my other diffuser (purchased from another company) wasn't purchased from you!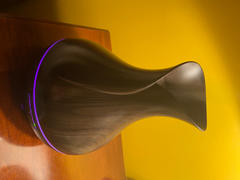 03/23/2020
Angelica K.

United States
Works great
I bought this for my 8yo daughters room for afternoons to keep her calm, and other than the base being easy to spill its very easy to use. We usually fill a cup of water to refill it rather than unplugging and re-plugging it.My daughter turns it off and on by herself. The colors are cool. The only issue is that the timer buttons light up under the indication of what timer setting it is, I expected it to back like the setting options. They are impossible to see unless you put a light up to it. (see pictures) For reference, the one without a flash has a lamp next to it and you can't see the writing. We may find a white paint pen to help with that. My daughter also puts something small in front of it because the light is too bright for her next to her bed while shes going to sleep. But for reference, most night lights are too bright for her. You can actually hear the motor going but its very quiet and doesn't disturb my daughter who typically doesn't like sounds.
Perfect for asthma
Love this product. I have asthma so I add a few drops of food grade peroxide and eucalyptus and it helps reduce the amount of times I use my inhaler.
Love it!
I had experienced walking pneumonia weeks prior to purchasing this diffuser. I had been on antibiotics and steroids for the pneumonia and the infection cleared. However, I continued to experience stuffy nose and cough that disturbed my sleep. I purchased a blend of essential oils and used two drops for 100ml of water. After the first night I used this diffuser and essential oils and slept through the night. I did not have stuffy nose or cough in the morning. The diffuser is quiet and looks really zen on my glass table night stand. There was no water on the glass table even after using the diffuser all night. I recommended this diffuser to my sister and would recommend to anyone with allergies or upper respiratory issues.
09/14/2019
Sassy a.

United States
I love this thing. See my 2 photos
This diffuser is easy to use, and holds a lot of water to diffuse your essential oils. Love the cycling color ring light.You can turn the light off, or set it to your favorite color, or let it cycle through all of them. The light also comes out the top a bit, to light up the vapor escaping the diffuser. When on high, the vapor comes out like a little cloud; so neat. I bought the very same style, in pale gray/white from a different vendor on Amazon. It works the same except the max fill line is missing so it's hard to tell where to stop filling with water.That's a minor thing, but annoying not to see the max fill mark. I bought 2 of my grown daughters this diffuser as well, and they love them.I put 2 photos on here. One is mine, and one is my daughters.
Excellent Diffuser
People Listen.... if you've ever thought about a diffuser this is your product! I wanted to save money and have the wonderful scent instead of spending a lot of money on plug-ins, which after a while they need total replacing, I purchased one and loved it and also can find my favorite scents also. I now have four!! I wish they had smaller ones for my bathrooms! Easy to use . You can put it for a few hours or all day and best thing it's auto-shut off when water runs out! and pretty lights too