Wedge Cushion: Memory Foam
Wedge Cushion: Memory Foam
Bundle and Save 15%

Wedge Cushion: Memory Foam

Memory Foam Seat Cushion and Back Cushion, Gel Infused & Ventilated
Get the best in lasting comfort and relief with Everlasting Comfort's Memory Foam Wedge Cushion. Our 100% premium quality memory foam cushion is made of the exact same material as the world's leading memory foam manufacturers. By responding to your body heat our cushion intellegently molds to you, yet retains its shape forever! It's also incredibly resilient and will never flatten or deform, even after consistent use.
Its U-shaped ergonomic design is recommended most by orthopedic surgeons and medical doctors across the globe for treating chronic and acute pain. By alleviating pressure from strategic areas our wedge seat cushion provides relief from sciatica, coccyx & tailbone pain, and back, leg, and hip pain.
The cushion is lightweight and portable, perfect for driving, long days at the office, traveling, and so much more. The mutli-use chair pillow works perfectly as an office chair seat cushion, car seat cushion, gaming chair cushion, or stadium seat pad. The cushion even features a convenient carrying strap on its side. And, it's a fantastic addition to your road trip essentials checklist. Its plush velour cover is hypoallergenic, machine washable, and stays secure in any seat thanks to its non-slip bottom. Discover exceptional relief with the Everlasting Comfort Memory Foam Wedge Cushion.
Does this cushion have a cut-out in it in the groin or coccyx area for pressure relief?
Yes, the wedge cushion is outfitted with a U-shaped cut out in the rear to suspend the tailbone and coccyx for added relief.
Is this good for a petite elderly bony person who sits most of the day?
Yes, the wedge is made of 100% premium memory foam the exact same material as the world's leading memory foam manufacturers and can be used while sitting for long periods, enhancing your comfort while retaining its density.
Would this product work in a car?
Yes, it does. I use it everyday in my car and spend about an hour each way to and from work. It is comfortable.
Can I travel with it?
Yes, the wedge cushion is very portable. It features a convenient sewn-in handle and can be easily folded in half to fit into most backpacks or suitcases.
What is a wedge cushion used for?
A wedge cushion is used for supporting the neck, back, or legs while resting.
Can you sleep on your side with a wedge pillow?
The Everlasting Comfort Wedge Cushion is designed for a seated position.
Do wedge pillows help back pain?
The Everlasting Comfort Car Seat Cushion is designed to provide tailbone support including support below the waist.
How do you sleep comfortably on a wedge pillow?
With it's U-shaped design and heat responsive memory foam, the Everlasting Comfort Car Seat Cushion is designed for optimal, personalized comfort.
How do I choose a wedge pillow?
The Everlasting Comfort Car Seat Cushion is unique to other wedge pillows in that it adjusts to individual curvature and body heat, making its features well rounded and sustainable.
Are wedge pillows good for back pain?
The Everlasting Comfort Wedge Cushion features a U-shaped design to support the back's natural curves against other surfaces, -providing long-term comfort.
Can a wedge pillow help with snoring?
The Everlasting Comfort Car Seat Cushion is primarily designed for additional support in the lower back and legs.
What is the best height for a wedge pillow?
The Everlasting Comfort Car Seat Wedge Cushion is 3 inches in height. Traditional wedge pillows can reach approximately 15 inches in height.
Is it good to sleep on a wedge pillow?
Wedge pillows are designed on an incline to prevent the tonge from falling backward in the mouth, which can cause snoring.
Warranty Information
All Everlasting Comfort® products come with a Replacement Policy from Upper Echelon Products.
For ANY quality-related issues, we will send you a replacement for free!
Please note that this warranty is not valid unless the item is purchased directly from Everlasting Comfort® and registered under our warranty.
Upon receipt of your purchase, you need to register your product on our website. To register your product, click here.
For any inquiries regarding our warranty or registration, please email support@upperechelonproducts.com with your name and order information (if applicable), and we would be happy to assist you further.
To redeem a replacement under warranty, please email us the following information:
-Order Confirmation/Order ID
-Product Name/Title (in cases of multiple orders)
-Brief description of the issue(s) along with picture(s) of the damage (if applicable)
Disclaimers
The above guarantee is against defects in materials and workmanship. If anything goes wrong with your product, we will send you a replacement for free. The lifetime warranty does not apply to electronic products or our essentials oils set.
Electronics 2-Year Warranty:
Oil Diffuser
Humidifier
Boot Dryer
Touchless Soap Dispenser
30-Day Warranty:
Non-Returnable items:
Return Policy
We offer a free 30-day Return Policy for undamaged items. You can return your product for EC-store credit, a different product (Exchange), or a refund to the original payment method.
Refunds or EC-store credit will be processed upon the delivery and processing of the item(s).
For exchanges, we will ship your new item once the original item is received based upon your original exchange request. Exchanges are for products of equal or lesser value.
Please note the following exceptions to our return and exchange policy:
Returned items must be returned in the original packaging
Returned items must have no visible signs of wear or use
Exchange is only 1 item per Order with a product of equal or lesser value. Only rare exceptions will be made to this policy.
Gift Exchanges are only applicable if provided the Order Number as proof of purchase and is applicable for an Exchange of product(s) of equal or lesser value OR applicable for EC-store credit.
Questions? Get in Touch.
To initiate a Return or Exchange, please complete the following steps:
-Contact us by email at support@upperechelonproducts.com with your Order Number and specify the item(s) you wish to Return OR Exchange.
-Print the prepaid USPS Return Label that you will receive from our Customer Support and mail back the item(s) using the prepaid Return Label.
-Refunds or EC-store credit will be processed upon receipt of the item(s). For exchanges, the new item(s) will be shipped upon arrival of the original item(s).
Disclaimers
Please know that we will provide one return label per product that can be placed directly onto that item. If you are returning more than one item, we will need to provide you with more than one return label.
If other item(s) are included that do not have a specific return label, we will be unable to refund those item(s).
If wishing to exchange item(s) of greater value than the original item purchased, we will provide EC-store credit which may be applied to the purchase of your new item(s).
BACK, LEG, & HIP PAIN RELIEF
U-SHAPED ERGONOMIC DESIGN
CAR, TRUCK, OR OFFICE WEDGE CUSHION
Reviews
Customer Reviews
Write a Review
Ask a Question
Grips leather seat well
Worked well. Gripped the car seat and does not slide when you get in and out.
Sitting on clouds!
This cushion is very comfortable. I use it in my car and it provides added height and comfort while I drive. I can drive for hours now without feeling uncomfortable or sloughing. This is a well made product.
This cushion helped relieve the pain!
This is the 2nd cushion I ordered for my husband to use when driving. He's had hip pain from arthritis. So far so good, although he's only had it for 2 weeks. No pain when driving, and it's better than the other brand we ordered,which only helped a little. This is a winner for us.
I can actually see over my steering wheel!
I bought this pad to enable me to see over the steering wheel!I need a big suv, but I'm so short I can't see over the steering wheel even when the electric seat is as high as it will go!This pad works perfectly, plus has an added bonus I was not expecting - I have leather seats and even so, this pad doesn't slide around!It's very comfortable and the way it's designed, thick in the back and slimming down in a wedge-shape toward the front, I didn't even have to adjust my seat height or move my seat back!I love this - wish I had bought one many years ago!Thank you for making such a useful and comfortable product!
Necessary for driving while traveling
Had went out of town for a 3 day weekend on a 7 hour turnaround, with a lot of city travel while I was away.When we returned back I hadn't felt like I had been sitting nor driving for extended times and we did a lot of riding after we checked in on the first day. These definitely makes a difference *****
07/23/2020
Lisa D.

United States
Alleviates the Pain
I recently had a baby and have dealt with some pretty uncomfortable tailbone pain. The wedge cushion has helped tremendously. I use it in the car, at work and at the dinner table. It was an excellent purchase!
It's firm enough for support
For me it's comfortable.Most of the similar stuff/cushion I used before, I found them too soft and went out of shape very quickly. This one feels right on, if anything, I would actually hope it's harder. I weight about 180Lb. Because of the work from home, I didn't really have a pricy office chair at home for the back support, so I have been getting a lot of pain from my back, especially tailbone. This cushion helps a lot. I actually have no more pain from tailbone since I started using it.
its really comfortable
I bought this for my truck seat which is worn out in the butt area. Really comfy appears to hold its shape and not flatten out like I have heard some do. Ive never bought one of these before so cant compare it to others, I just know my rear and lower back no longer get sore,,, as quickly.
Great Support & Comfort
This is sublime! Half of my spine was fused 25 years ago, and over the years my joints have taken the brunt having to support my body, since half of my vertebrae were removed. I am a healthy and fit woman, but age gets to you, especially when your spine is fused. And let's face it, chairs are rarely built to suit every body type. Using this wedge/ spine support cushion has brought me great relief and comfort. After I only used it for a few minutes the relief set in already. I would say not to put it in the dryer though. I highly recommend this product & will give an update, if possible in a few months after using it a while.
Does its job
I've had this for a short time, however between taking online classes and being an avid gamer much of my time is spent on a chair behind a desk. This product allows me to sit for the hours needed and has eased nearly all back pain associated with sitting for so long. My lower back (idk technical terms) around the tailbone would get very sore but this seems to have solved that problem. I'm considering getting one for my car as well but I DO recommend to anyone that has to sit for extended periods of time and especially if you have back pain!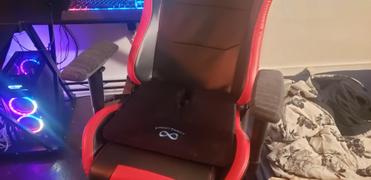 Additional Information
Do you dread long car rides due to the pain you experience from sitting in the uncomfortable seat? Car seats were not designed with comfort and posture in mind, which is why many people suffer from pain after spending time riding in a car. That's why you need the Everlasting Comfort Car Seat Cushion!
 Whether you're going for a quick drive to work, or you spend long hours each day driving a truck, you need a car seat cushion to alleviate pressure and decrease chronic pain. This car seat cushion is designed to help relieve coccyx, tailbone, leg, hip, and back pain, as well as help people that experience pain from sciatica.
 This car seat wedge cushion is essential for anyone that feels sore after spending time in a car. It's also helpful for people that need additional support while sitting in an office chair! Let's take a closer look at the unique features this product offers:
 -Ergonomic design
 This cushion has a unique design that features a U-shaped cutout in the back to alleviate pressure and pain in the tailbone and coccyx area. The ergonomic design allows for maximum comfort and support to reduce pain from sitting in your car.
 -Pure memory foam
 The Everlasting Comfort seat cushion is made with 100% pure memory foam. It's durable, effective, and will provide you with years of comfort.
 -Heat responsive
 The memory foam seat cushion is heat responsive so it can perfectly contour to your body shape. This not only provides you with increased comfort, but also offers individualized support while sitting in your car.
 -Non-slip cover
 With a non-slip bottom, you won't have to worry about this seat cushion slipping or sliding around while you drive. Additionally, the cover on this product is easily removable and machine-washable, so your seat cushion stays fresh and clean.
 -Travel-friendly
 This seat cushion has a convenient travel strap that allows you to easily carry it to and from your car. If you want to use this cushion while driving as well as on your office chair, this travel strap makes it easy for you to carry back and forth.
 -Lifetime replacement guarantee
 Everlasting Comfort designed this car seat cushion to be durable and long-lasting, but if anything happens to it, we've got your back. We'll send you a brand new seat cushion for free as a replacement so you'll never be without car seat support again.
 If you experience leg, back, tailbone, coccyx, or hip pain, the Everlasting Comfort Car Seat cushion is essential. The unique design of this cushion provides support for your back and tailbone to relieve pressure and reduce chronic pain. Also, this seat cushion is perfect for people that experience pain from sciatica.
 Purchase your Everlasting Comfort Car Seat Cushion today and say goodbye to the aches and pains of riding in a car. Now, you can look forward to feeling comfortable and supported, even during long car rides.