Gel Infused Memory Foam Travel Pillow
Whether you're traveling for business or for pleasure, there's one thing everyone can agree on: airplane seats are terrible. You know what it's like to be stuck on a plane for hours, trying to configure your neck and head to fit comfortably somewhere so you can sleep through the flight. If you're tired of long-uncomfortable flights, it's time to purchase the Everlasting Comfort Memory Foam Travel Neck Pillow.
There are a select few people that can fall asleep instantly, no matter how uncomfortable they are. But for the rest of humanity, a travel neck pillow is an essential item when flying on an airplane. This product isn't just a travel neck pillow, however. It goes above and beyond to provide optimal comfort for long-distance travel. Let's take a closer look at the incredible benefits this pillow provides.
-Gel-infused and ventilated memory foam
This unique travel pillow features a revitalized design with gel-infused memory foam for optimal comfort. There are also strategically placed ventilation holes that provide a cooling effect when using this pillow.
-Ergonomic raised lobe design
This is not a typical u-shaped neck pillow; this product has a raised lobe contouring on either side of the pillow, which allows for increased comfort when tilting your neck from side to side. This design is ideal for those who want to sleep in their seat by resting their head sideways on the soft memory foam pillow.
-Convenient cell phone pocket
There's nothing worse than falling asleep on a plane with your phone on your lap, only to wake up to it falling onto the ground. This product has a unique cell phone pocket that can perfectly fit your phone so you can listen to music while you drift asleep. You can also fit headphones and other small items in the pocket.
-Compact travel set
When you purchase this travel pillow, you'll be receiving more than just the pillow. You'll get a full compact travel set, which includes memory foam earplugs, a sleep mask, and a bag to fit all of these things into for easy transportation.
-Lifetime replacement warranty
This product comes with a lifetime replacement guarantee, so you'll never be without your memory foam travel pillow.
-Adjustable straps
There are convenient adjustable straps to keep your pillow in place as you drift off into sleep. Simply tighten the straps to your comfort level and sit back and relax into the gel-infused memory foam.
Whether you're a frequent flyer, spend a lot of time in the car, or travel by train, this travel neck pillow is absolutely essential. Say goodbye to awkwardly shifting in your chair trying to find the perfect spot to rest your head. With this neck pillow, you'll be comfortable the second you lay your head back. You'll be the person that instantly falls asleep and stays asleep throughout the entire journey.
Purchase the Everlasting Comfort travel neck pillow with gel-infused memory foam today and experience comfort and pain-free travel. Pretty soon, you'll wonder why you didn't make this purchase sooner!
Customer Reviews
Write a Review
Ask a Question
04/16/2020
Kindle C.
United States
No
Did not want new product not as advertised
04/04/2020
Joy
United States
Comfort
Good support, comfort could be better with a rounder shape.
03/22/2020
B.E. C.
United States
Product as described
Good set of pack.
03/06/2020
A M.
United States
Comfortable support
Great memory foam support and gel cooling.However, it took about 48 hours and several kneadings for the foam to fully expand after unpacking from the shipping box.Don't try to put it back into the enclosed carrying case.It is way too small.We used a "biaggi" travel shoe bag and it was just the right size.The face eye mask was very comfortable, easily adjustable and kept the light out.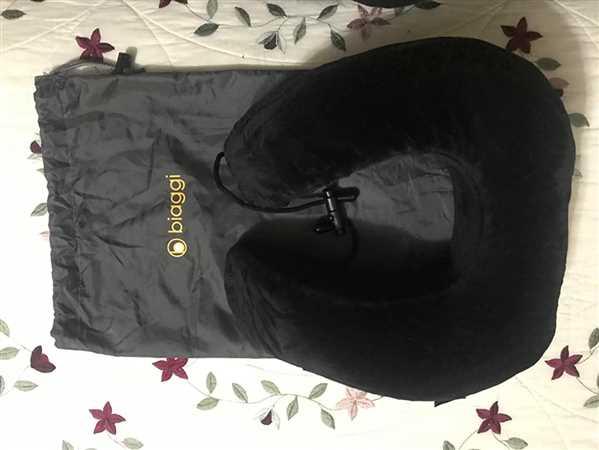 02/28/2020
Walter G.
United States
Amazing
Use it for plane rides and dialysis it's great
01/30/2020
santhosh
United States
I really liked the quality
Very good travel pillow. I really like it.
01/23/2020
Tiffany
United States
Non adjusting
It's to hard
01/23/2020
James H.
United States
Met my expectations
Very well made product which met my expectations for supportive comfort.
01/18/2020
Shirley B.
United States
Nice resting piece
Very comfortable
01/03/2020
Amazon C.
United States
Good product
Nice product