Gel Infused Memory Foam Coccyx Seat Cushion
Product Description
Do you spend hours each day working at your computer desk? Are you tired of standing up and realizing your entire body is in pain after sitting in an uncomfortable chair all day? You're not alone, millions of office workers experience the same chronic pain as a result of less-than-ideal seating conditions. That's why there's the Everlasting Comfort Gel-Infused Memory Foam Seat Cushion!
This product has everything you could want in a seat cushion, and more! Let's take a look at the incredible benefits you'll experience with the Everlasting Comfort seat cushion.
-Gel-infused and ventilated memory foam
This product contains an advanced formula which features gel-infused memory foam for ultimate comfort. There are also ventilated holes strategically placed to enhance comfort and provide a cooling effect while sitting.
-Responsive to heat
This seat cushion is responsive to your body heat and will mold to your body to provide additional support and comfort. The 100% memory foam compresses just enough to provide maximum comfort while staying firm to support your entire body and reduce pain and aches.
-Orthopedic and ergonomic design
The Everlasting Comfort seat cushion has an ergonomic design to provide comfort while working long hours at your desk. Additionally, it's often recommended by orthopedists and doctors to help those with chronic pain and other back, hip, or leg problems.
-Non-slip gel rubber bottom
There's nothing worse than a seat cushion that's constantly sliding out of place whenever you make the slightest movement. That's why this seat cushion was designed with a non-slip gel rubber bottom. This seat cushion will stay in place no matter how much you shift and turn in your chair.
-Lifetime replacement guarantee
Everlasting Comfort worked hard to create the perfect seat cushion for home and office workers, and the product is undeniably incredible. But if anything happens to your seat cushion, you can feel confident that it will be replaced with a brand new one. You'll never be without a comforting seat cushion again!
-Machine washable
Washing your seat cushion has never been easier. All you need to do is unzip the cover, wash it with cold water, and machine dry.
This soft seat cushion is an essential part of any home or office setup. Use it on your office chair, kitchen chair, car seat, or wheelchair to experience the benefits of comfortable and pain-free seating. It's also travel-size so you can take it back and forth between your home or office, and even use it on those terribly uncomfortable airplane seats.
The Everlasting Comfort gel-infused seat cushion not only relieves and prevents chronic pain in the back, hips, and legs, but it can also relieve pain for people who deal with sciatica. It's a truly essential item for anyone who spends long hours sitting down.
Treat your body right with the Everlasting Comfort Gel-Infused Memory Foam Seat Cushion and say goodbye to those pesky aches and pains. Once you try this product, you'll never go back to sitting on your uncomfortable chair ever again.
FAQ
Q: What is the size?
A: The Everlasting Comfort Back Cushion measures 35cm x 45cm x 7cm.
---
User Reviews
Customer Reviews
Write a Review
Ask a Question
08/23/2020
Dennis L.
United States
Gel Infused Memory Foam Coccyx Seat Cushion Review
My experience in using the Gel Infused Memory Foam Coccyx Seat Cushion has been very positive overall. From initial purchase to receipt and use of this item, my expectations have been well satisfied. First and formost, it is comfortable. I do a lot of sitting on different types of chairs and cushions. This is one of the best cushions for me because of the comfort it provides, especially to the tailbone area. It also assists in helping me to sit up straight, which improves posture and reduces fatigue. I have even noticed a reduction in bed sores and faster healing of same on my bun and lower backside. I believe that the gel infusion actually works in alleviating this bed sore condition. Yes, indeed, I am well pleased with this well made and reasonably priced product. I intend to purchase the original memory foam seat cushion for my wheelchair, just to give it a try. And there you have it!
Great Support that does not fade
This gel infused seat cushion is the perfect size - it is not a tiny little pillow to perch on. It is a nice well sized item that fits well on my office chair. The support and comfort lasts for hours uninterrupted. Heavy use does not impact its quality - it doesn't compress into a flat of nothingness over time. I bought this after other seat cushions resulted in back pain and aches, put it to work and it has not moved from my office chair since. Recommend this very much. I may buy more.
It works!No more hip pain
Due to the Covid19, I found myself suddenly working from home.My home office setup has a dining room chair vs. an office chair.I sit in front of a computer for 8-10 hours daily.I started having pain in my right hip and thought I'd try out this seat cushion to see if it would help and it did!I noticed a difference within a day or 2.I'm so happy I bought this cushion.
Very comfortable
I use this in my car for traveling long periods of time.It is very comfortable and has helped with back pain.I was pleasantly surprised how good this feels after having a back fusion.
07/06/2020
Marilyn M.
United States
Heavenly cloud
I thought my posture was okay until this cloud of a pillow showed up and relieved my back pain. Sitting for hours doing homework you don't realize the slouching. But once I bought this for my sister she wouldn't stop raving about it. So I bought another for me & one more for my best friend. Since it is portable we take it to work as well. This pillow is our heavenly cloud. Don't question, just buy it.
I sit on it over 8 hours a day
I use this on my home office chair and have used it for just about a year now.The support and comfort are great and I've had a lot less discomfort hip and back discomfort vs sitting just on the chair.It doesn't get hot nor does it collapse like some other pads I tried. Verdict - I would definitely buy it again.
10/20/2019
Amazon C.
United States
Beyond my expectations
This item came timely and when I used it was comfortable beyond my expectations! I had to reach out to the company for a minor matter and was responded to promptly and professionally! I recommend this product without a doubt. BRAVO UPPER ECHELON!
08/20/2019
Andrea
United States
Supportive and cushy
I have an office chair that tilts downwards. It looks and fits well in my apartment bedroom, when space is an issue. My problem I've had with my chair is the blood gets cut off in my legs. But with this cushion pointed in the opposite direction is making all the difference. I can sit at my desk longer with out pain. What a blessing this is for me. It's super supportive but yet cushy.
05/31/2019
snwbordrgrl
United States
Comfy, Pressure Relief Cushion
I'm amazingly impressed with this cushion. I originally purchased for use at conventions (stadium folding chairs are the worst!). After I received the cushion, I realized I should be using it on my office chair. I work at my desk 9am - 5pm and I thought I had a pretty comfortable mesh chair. After adding these cushions, what a difference! I notice the lumbar cushion forces me to sit up straight instead of doing the 'hacker slouch'. I would highly recommend for anyone who sits a lot. The cushion bounces back quickly and doesn't flatten out after longer periods of use. The gel memory foam is very different than regular memory foam, it doesn't get hot. Stop reading reviews, go ahead and buy this cushion! You won't regret it.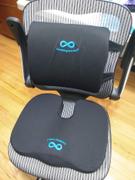 04/09/2019
Stephanie
United States
It's a cushy for your tushy
I work from home and sit in a cheap desk chair. It wasn't really in my budget to get a brand new fancy desk chair for professionals so I grabbed this cushy for my tushy and it's GREAT! It also helps me feel taller, haha