Memory Foam Foot Rest Pillow Under Desk
Product Description
If you experience pain in your feet, legs, or joints after sitting for long hours, it's likely because there is too much pressure on your feet. To alleviate that pressure and reduce or eliminate chronic pain, try the Everlasting Comfort Office Foot Rest.
This product is perfect for people who spend long hours working at their office desk, only to find that they have pain after they're done working. By using this footrest pillow, you can lift your feet off the ground and rest them at an angle to reduce pressure. The teardrop design of this pillow allows it to be used as more than just a footrest--you can also use it behind your back and under your knees while you're lying down.
Eliminating chronic pain has never been easier with this footrest under desk pillow. Let's take a look at the unique features this product offers:
-Pure memory foam
This footrest pillow is made with 100% memory foam that is the exact same material that's used in the top memory foam manufacturers in the world.
-Orthopedic "teardrop" design
With an ergonomic and orthopedic teardrop design, this pillow perfectly supports your feet while you spend long hours sitting at your desk. This design places your feet, ankles, and legs in the perfect position for maximum comfort to eliminate pain.
This unique design also allows the pillow to be flipped over and used as a foot rocker while you're sitting. Additionally, you can use it under your knees while you sleep to improve your posture and eliminate pain.
-Heat responsive
This memory foam footrest is responsive to your body heat, which allows the pillow to perfectly mold to your feet to provide maximum comfort while giving you the support you need to alleviate pain.
-Non-slip cover
With a non-slip bottom, you won't be struggling with this footrest sliding around as you try to work. Additionally, the cover on this product is removable and machine-washable, so you'll never have to worry about using a dirty footrest.
-Lifetime replacement warranty
Everlasting Comfort made this footrest extremely durable for everyday use, so it will last a long time. But if anything happens to your pillow, you can rest assured that it will be promptly replaced with a new one, so you'll never be without your office footrest again.
The Everlasting Comfort Office Foot Rest is perfect for people who work from home at a desk all day. If you experience foot, leg, or joint pain, it might be due to too much pressure being put on your feet while you sit. With this footrest, your feet will be raised at the perfect angle to alleviate pressure and reduce pain while providing you with maximum comfort.
If you're tired of feeling sore after a long day of working at your office desk, it's time to purchase the Everlasting Comfort Office Foot Rest. Say goodbye to chronic pain and replace it with pure comfort when you use this amazing under desk foot pillow.
User Reviews
Customer Reviews
Write a Review
Ask a Question
Back Relief From Pain......Start With The Feet!
I LOVE my new foot cushion!!!!Instant relief from lower back pain!!!!!!Plus, I use it on both sides, the curved side and then flip it, for the flat side.To this day, I still have mine in the plastic.......helps keep it clean.I absolutely love this cushion under my work desk, plus I take it around the housewith me too!!!!Such relief, with all the time comfort.Highly recommended.kathie
Best Computer Investment
THIS!!! THIS IS A GOD SEND! I've had pain in my thighs and knees and alot of jitters moving around my feet sitting in one place too long. Before I was using a massage roller to set my feet on and had slight pain in my arch doing that. This is like a soft plush ground for my feet. It relieves all the pressure and lets me relax in peace plus as a bonus it helps me keep my posture.
Don't underestimate proper foot support!
This product does exactly what I wanted it to do.It allows me to either sit upright or fully reclined and it hugs my feet extremely well!By elevating my feet just a bit off the floor, it takes the tension off of my knees and prevents the blocking of bloodflow from my legs hanging off of my chair when reclined.As a Software Engineer, I spend a good 8-10hrs of my day at my desk, not including the time I spend in the evenings gaming on my computer and this has made my work/gaming arrangement extremely comfortable.Its true that over time your feet will sink into this, and it feels very comfortable.If I want to get back to a firm part of the pillow, I just shift it over a few inches and put my feet in a different place.Great value for the money, zero complaints here!
WOW very comfortable and worth the price!
I will tell you I was a bit skeptical on buying this because I wasn't sure if it would help me. So I just got this today from my Amazon driver and opened it up and right away put it down under my computer desk. And rested my feet and at first, it was stiff so of course it is brand new. And the instructions mention once your warmth from your body hits the pillow it will start to soften. And it did just that and wow it feels amazing and no more trying to find something to prop my feet up. Very very happy! Another plus is they are a small business and always willing to help a small business before a big business.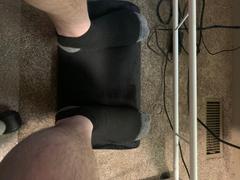 02/18/2020
G J.
United States
Comfortable foot rest!
I bought this to match my seat cushion. It is soft and comfortable as a foot rest. It doesn't move around since the bottom has a nice friction grip. The cover is removable so I don't have to worry (too much) about getting it dirty. I would probably event buy extra covers in different colors to go with the office colors.
02/01/2020
Barbara
United States
Your feet will love the comfort.
I really like this foot rest pillow. I love the feel of the memory foam and the fact I can remove the cover and wash it. This footrest is multi-use for me. I use it at my desk to elevate my legs/knees which alleviates leg and back pain. If I have to sit for long periods of time I use it upside down to rock my feet which helps to improve circulation. You can also exercise your calves this way. I have found placing the foot rest in the lower back area helps with my posture at the computer which also helps with back pain. The footrest is of good quality and the price is very reasonable.
01/29/2020
Geo
United States
A blessing from the foot gods!
My feet never felt this comfortable whenever im on my desk doing something productive or playing games for hours! I was thinking about getting a standard stool/foot rest because my wall is getting grimey from all the foot/shoe marks on them. The memory foam makes your feet feels like its in cloud 9 and to think that you could flip it and it instantly converts into a rocking foot rest! I was going to leave the plastic cover on it so that I dont get it dirty but taking the cover off it and machine wash it makes it easy breezy to keep clean! Highly Recomended!
01/27/2020
James P.
United States
A real life saver!
I was hesitant to purchase initially as I wanted something that matched my chair and would be beautiful under my desk while being functional. I used it the entire weekend (software developer) and I can say without a doubt it is not only functional, but very comfortable and looks great under the desk. For the price, style and comfort you can't beat this foot rest.
01/22/2020
Braedan m.
United States
Great for your feet
This foot rest pad came really fast and immediately I felt relief when I put my feet on it since I sit at my desk to study for classes I use it all the time it is soft on your feet and can be washed. Anyone with aching feet should get this it just works wonders and it has a lifetime warranty I saw in the box
12/04/2019
Tom
United States
No more stressed Feet! Tn Co
This is a super hero for my feet! It's very soft yet sturdy and very relaxing. I'm sure there are many out there that carry there stress in there feet and lower back like I do. Well this foot rest really help take some if that away. I'm not sure if it was the angle it put my feet at or if it was the pressure that it took off my feet but I definitely put me in a better mood.