Product Description
Features Of The Aromatherapy Essential Oil Diffuser
Take your home to the next level by making it your dream oasis with the Everlasting Comfort Diffuser for Essential Oils. Soothe your mind, body, and soul with your favorite scents by adding a few drops and some water to this high-output oil diffuser that can fill an entire room with an incredible aroma.
This product's design is beautiful; it has a flower vase shape that's small enough to fit anywhere in your home. You can choose between gorgeous light wood or dark wood to match the aesthetic in the house.
If you're looking for the all-around best essential oil diffuser, you've found it. Here's a rundown of some incredible benefits you'll experience with this diffuser:
-High capacity unit
This unit has a 400mL tank which can provide you with over 13 hours of diffusion before it needs to be refilled. That means you can have an entire day of oil diffusion without having to refill the tank. Most other oil diffusers only have 200mL of capacity, so this one definitely leads the pack in terms of volume.
-Variety of LED lights
This unit comes with seven different LED lights that you can choose between while it's turned on. Colors include yellow, green, aqua, blue, purple, violet, and red. You can choose any one of these colors and select high or low to really set the mood in the room. You can also choose the carousel option for the colors to alternate in a rainbow pattern.
-Multiple timer options
Your essential oil needs vary from day-to-day, so you need a diffuser that can match your schedule. With the Everlasting Comfort oil diffuser, you can set a time for one hour, three hours, six hours, or put it on a continuous timer. When low water is detected, this unit will automatically shut off to protect it from any damage.
-Mist output variability
Whether you want a soft, gentle essential oil aroma or a powerful one, this unit can meet your needs. You can choose between a low (30mL per hour) or a high (50mL per hour) mist output.
-Provides incredible therapeutic benefits
This powerful oil diffuser not only fills your room with a beautiful scent, but it disperses therapeutic effects depending on which oil you choose. Add a few drops of oil into the diffuser with some water, and start to experience the benefits those oils can offer.
Essential oils are clinically proven to provide a wide range of effects, including improved sleep, improved mood, reduction of anxiety, pain relief, energy boost, improved brain function, improved immune system, and improved skin and hair.
-ETL-certified
The Everlasting Comfort Diffuser is ETL-certified, meaning it meets the highest safety standards to ensure your safety and reliability of the unit. Each internal piece is ETL-certified because there were no shortcuts taken when creating this unit.
There's no doubt that the Everlasting Comfort Diffuser will make a great addition to your home. Not only can you start to experience the benefits of essential oils, but you'll be getting the best and most affordable diffuser on the market. Purchase your new unit today to upgrade your home and your life.
FAQ
Q: What are the dimensions of this diffuser? Looks large. Thank you!
A: The diffuser is approximately 9 inches tall at its highest height and approximately 6 inches at its widest.
---
Q: Can the light be turned off?
A: Yes. You can turn the light off.
---
Q: Can you use distilled water?
A: Yes,distilled is best. Filtered is good,too.
User Reviews
Customer Reviews
Write a Review
Ask a Question
08/21/2020
Steve Z.
United States
Nice product
Looks good, works great, easy to use. I love this company, I have multiple items from them and so far no disappointments.
08/19/2020
Christi B.
United States
Smells great!
We recently moved into a new home and bought 1 to see how we would like it...well 4 later, we love them! We have one on every corner of the house and it makes the house smell wonderful!!!
Love! Love! Love!
Does everything as advertised and now that I am forced to study virtually, I spend a lot of time at my desk. The diffuser helps maintain my focus by silently pushing peppermint (choice of scent) into the air. Highly recommend and will return to website to look for other scents that can benefit my health.
05/25/2020
CAROL B.
United States
Great diffusers
I ordered two of these very attractive diffusers in dark wood and I am so happy that I did. One is in my bedroom and the other is on my bathroom counter. They are in constant use. I am happy with their attractiveness and the fact that there is quite a lot of "steam" coming from them. I am really able to detect the scent of the essential oils that I have placed in each. They run for quite a long time on the 400 ml of water that I place in each. My only regret is that my other diffuser (purchased from another company) wasn't purchased from you!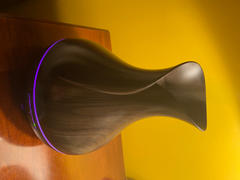 03/23/2020
Angelica K.
United States
Works great
I bought this for my 8yo daughters room for afternoons to keep her calm, and other than the base being easy to spill its very easy to use. We usually fill a cup of water to refill it rather than unplugging and re-plugging it.My daughter turns it off and on by herself. The colors are cool. The only issue is that the timer buttons light up under the indication of what timer setting it is, I expected it to back like the setting options. They are impossible to see unless you put a light up to it. (see pictures) For reference, the one without a flash has a lamp next to it and you can't see the writing. We may find a white paint pen to help with that. My daughter also puts something small in front of it because the light is too bright for her next to her bed while shes going to sleep. But for reference, most night lights are too bright for her. You can actually hear the motor going but its very quiet and doesn't disturb my daughter who typically doesn't like sounds.
Perfect for asthma
Love this product. I have asthma so I add a few drops of food grade peroxide and eucalyptus and it helps reduce the amount of times I use my inhaler.
Love it!
I had experienced walking pneumonia weeks prior to purchasing this diffuser. I had been on antibiotics and steroids for the pneumonia and the infection cleared. However, I continued to experience stuffy nose and cough that disturbed my sleep. I purchased a blend of essential oils and used two drops for 100ml of water. After the first night I used this diffuser and essential oils and slept through the night. I did not have stuffy nose or cough in the morning. The diffuser is quiet and looks really zen on my glass table night stand. There was no water on the glass table even after using the diffuser all night. I recommended this diffuser to my sister and would recommend to anyone with allergies or upper respiratory issues.
09/14/2019
Sassy a.
United States
I love this thing. See my 2 photos
This diffuser is easy to use, and holds a lot of water to diffuse your essential oils. Love the cycling color ring light.You can turn the light off, or set it to your favorite color, or let it cycle through all of them. The light also comes out the top a bit, to light up the vapor escaping the diffuser. When on high, the vapor comes out like a little cloud; so neat. I bought the very same style, in pale gray/white from a different vendor on Amazon. It works the same except the max fill line is missing so it's hard to tell where to stop filling with water.That's a minor thing, but annoying not to see the max fill mark. I bought 2 of my grown daughters this diffuser as well, and they love them.I put 2 photos on here. One is mine, and one is my daughters.
Excellent Diffuser
People Listen.... if you've ever thought about a diffuser this is your product! I wanted to save money and have the wonderful scent instead of spending a lot of money on plug-ins, which after a while they need total replacing, I purchased one and loved it and also can find my favorite scents also. I now have four!! I wish they had smaller ones for my bathrooms! Easy to use . You can put it for a few hours or all day and best thing it's auto-shut off when water runs out! and pretty lights too