Memory Foam Seat Cushion and Back Cushion, Gel Infused & Ventilated
Memory Foam Seat Cushion and Back Cushion, Gel Infused & Ventilated
Bundle and Save 15%

Memory Foam Seat Cushion and Back Cushion, Gel Infused & Ventilated

Memory Foam Foot Rest Pillow Under Desk
Endless hours at a desk and extended car trips take a toll on your body. Our seat and back cushion combo is designed to convert any chair or seat from a pain-inducing fiend to a comfortable and supportive friend. Both cushions are made with 100% pure gel-infused memory foam with strategically placed ventilation holes for enhanced comfort and cooling. We've coupled it with our hypoallergenic covers to maximize airflow and keep you cool while absorbing heat. By responding to your body heat our chair cushions intellegently mold to you, yet retain their shape forever! They're also incredibly resilient and will never flatten or deform, even after consistent use.

The cushions ergonomic design provide ideal support for your entire body. The lumbar pillow can be placed anywhere along the back of a chair for upper, middle, thoracic, and lower back support. While the gel-infused memory foam seat cushion's U-shaped design helps suspend your tailbone, or coccyx off hard surfaces and provides optimial support for your legs, hips, butt, and back. And, never worry about having to adjust your back or seat cushion. Our back cushion's dual adjustable straps can be fixed to any part of a seat back and our seat cushion's textured non-slip bottom stays secure in any seat. The cushions are incredible lightweight and portable, perfect for use in a car, office chair, dining chair, airplane seat, gaming chair, or wherever you go. And, the cushion covers are easily removable, machine washable, and dryer safe. As you get ready to embark on your next journey on the road or if you just want to sit comfortably at work, using our cushions ensure you're always your best self and can enjoy life after the grind.
CAUTION: Non-slip rubber bottom may stain light colored leather/vinyl. Before use, wash cover in soap and hot water. Once the cover is dry, test for color fastness with a towel and hot water.
There's nothing worse than spending an entire day sitting in a stiff and unsupportive chair while hunching over your computer. Not only is this uncomfortable on its own, but spending hours like this each day can really do a number on your body, particularly on your back. That's why you need the Everlasting Comfort Memory Foam Seat Cushion and Lumbar Back Cushion Combo!
This seat cushion will not only upgrade your work setup by making your chair more comfortable, but it'll also help alleviate and prevent chronic back pain. Here are the incredible benefits you'll receive when you purchase this seat cushion.
-Two-in-one back cushion and seat cushion
This unique product comes with both a back cushion and seat cushion, so you get everything you need with one purchase. The back lumbar support cushion can be placed anywhere on your chair to help relieve chronic pain, arthritis, stenosis, and herniated discs.
The seat cushion has a u-shape design and is especially helpful for people and deal with chronic aches and pains in the lower back, legs, tailbone, lumbar, hips and coccyx. It can also be helpful for people who have sciatica.
-Gel-infused and ventilated design
This product features an advanced formula that includes gel-infused memory foam and ventilation holes which enhances comfort and relieves pressure and pain while working at your desk.
-Responsive to heat
The advanced formula in this product responds to your body heat which allows each cushion to mold perfectly to your body. This provides additional firm support to the areas on your body that need it.
-Lifetime replacement guarantee
Everlasting Comfort has worked tirelessly to create the perfect product for home and office workers that need seat support. If anything goes wrong with the product, we offer a lifetime replacement guarantee so you will never again be without this incredible product.
-Ergonomic and orthopedic design
This product has an ergonomic design to maximize the benefits of the gel-infused memory foam. Orthopedists often recommend this cushion to help those dealing with chronic pain from sitting at a desk for long hours.
This product is machine washable--all you need to do is unzip the cover and throw it in the wash with cold water and then into the dryer. Also, if you have allergies, don't worry because this product is completely hypoallergenic. The Everlasting Comfort cushion really does have it all!
This product has undergone the most rigorous testing and was created with the customer in mind. Everlasting Comfort wanted to make a product that could solve all of your problems when it comes to sitting in an uncomfortable chair all day. That's why this product provides both lumbar support and a soft, high-quality cushion.
It's time to take your work setup to the next level with the Everlasting Comfort Memory Foam Seat Cushion and Lumbar Support Cushion. Don't finish your workday with a sore body anymore, finish your day feeling strong and pain-free with the support of this incredible product.
How long are the straps for the back cushion?
The Everlasting Comfort Back Cushion comes with dual adjustable straps and an additional removable extender, allowing it to fit around most office chairs or vehicle seats easily. Generally, the straps can be tightened down to a minimum length of 16.5 inches, and please note the circumference needs to measure a minimum of 32 inches to ensure proper fit.
Has anyone use this product that is 200 pounds or more?
Our Everlasting Comfort Seat and Back Cushion Combo are designed to work for many people including individuals weighing 200 or more pounds.
If I use the seat cushion for a few days, will the "memory" foam relax and adjust to a second person?
The Everlasting Comfort Gel-Infused Seat Cushion responds to body heat and will soften during use to mold perfectly to your shape. Then it will regain its original shape between uses.
Is the cover washable?
Yes! The cover is machine washable on a gentle cycle with cold water. Dryer safe (low heat) or air-dry setting. DO NOT PUT MEMORY FOAM IN WASHER.
Everlasting Comfort® products come with our Lifetime Replacement Policy from Upper Echelon Products.
For ANY quality-related issues, we will send you a replacement for free!
Please note that this warranty is not valid unless the item is purchased directly from Everlasting Comfort® and registered under our warranty.
Upon receipt of your purchase, you need to register your product on our website. To register your product, click here.
For any inquiries regarding our warranty or registration, please email support@upperechelonproducts.com with your name and order information (if applicable), and we would be happy to assist you further.
To redeem a replacement under warranty, please email us the following information:
-Order Confirmation/Order ID
-Product Name/Title (in cases of multiple orders)
-Brief description of the issue(s) along with picture(s) of the damage (if applicable)
Disclaimers

The above guarantee is against defects in materials and workmanship. If anything goes wrong with your product, we will send you a replacement for free. The lifetime warranty does not apply to electronic products which come with a 2-year warranty.
Current products with 2-Year Warranty include:
Non-returnable items:
If wishing to exchange item(s) of greater value than the original item purchased, we will provide EC-store credit which may be applied to the purchase of your new item(s).
Return Policy
We offer a free 30-day Return Policy for undamaged items. You can return your product for EC-store credit, a different product (Exchange), or a refund to the original payment method.
Refunds or EC-store credit will be processed upon the delivery and processing of the item(s).
For exchanges, we will ship your new item once the original item is received based upon your original exchange request. Exchanges are for products of equal or lesser value.
Please note the following exceptions to our return and exchange policy:
Returned items must be returned in the original packaging
Returned items must have no visible signs of wear or use
Exchange is only 1 item per Order with a product of equal or lesser value. Only rare exceptions will be made to this policy.
Gift Exchanges are only applicable if provided the Order Number as proof of purchase and is applicable for an Exchange of product(s) of equal or lesser value OR applicable for EC-store credit.
Questions? Get in Touch.
To initiate a Return or Exchange, please complete the following steps:
-Contact us by email at support@upperechelonproducts.com with your Order Number and specify the item(s) you wish to Return OR Exchange.
-Print the prepaid USPS Return Label that you will receive from our Customer Support and mail back the item(s) using the prepaid Return Label.
-Refunds or EC-store credit will be processed upon receipt of the item(s). For exchanges, the new item(s) will be shipped upon arrival of the original item(s).
100% GEL INFUSED MEMORY FOAM
COOLING VENTILATION HOLES
ORTHOPEDIC DOCTOR RECOMMENDED DESIGN
BACK, LEG, & HIP PAIN RELIEF
MACHINE WASHABLE/DRYER SAFE COVER
Reviews
Customer Reviews
Write a Review
Ask a Question
Suffer From Back Pain?
Your suffering is over!With this seat cushion and lumbar cushion...........ahhhhhhh, what a relief to be able to Sit Down, AND lean back into my chair!!!!I hurt my Coccyx , (tail bone),in a sudden fall from 'yard work',ordered these, as they are the top of the line!!! ..........OH What Wonderful relief to be able to just sit in a chair again, instead of laying all day in bed!!!!I move these from my computer chair, to different chairs in the house, AND even into MY CAR!!!!!I love the support they give, plus the covers are washable!!!!Also have a Lifetime Warranty!!!WOW.They truly 'over deliver'!!!!The pleasure is back.........just to SIT AND to LEAN BACK in a chair..........ahhhhhhhhh, life is good.I am very happy with these, and yes, they quickly helped reduce a LOT of my pains.A Great product!!!Thank you!Kathie
AMAZING, gave me great back relief
I was having pain while studying for a big exam because I was sitting for so long, so I bought this cushion to help. Took a day or so to break it in, but once I did, it was amazing. I haven't had back pain since. The butt cushion is the most important part, but the back support helps too. It slides a little down my chair, but once I adjust it and lean against it, it works perfectly. 10/10 recommend for anyone who sits for long periods of time!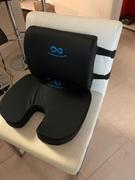 A soft, comfortable, cat fur magnet
I absolutely adore this set. When I was assigned a new desk, just a couple days in the chair and I was in pain. These saved my butt, literally! My cat loves it as well, he managed to cover it in fur in just the couple of hours I tested it out at home before taking it to the office. I'd highly recommend this to anyone with a sad, flattened chair, much cheaper than replacing the chair and very comfortable.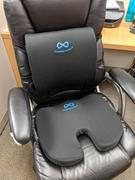 So Comfortable!
My job consists of me being in front of my computer all day. My chair provided no real support and the seat pad was non existent within a week. I didn't want to buy a whole new chair so I opted to give this a try. I require lumbar support as I have lower back pain. Let me tell you... the seat cushion is sooo comfortable and the back support allowed me to sit up straight and help my posture. It adds height, too. It was really easy to clip to my chair and I was able to sit at my desk all day without any discomfort. I noticed my legs weren't getting restless either and I'm assuming that's because the seat pad allows for better blood flow. Buy this if you need back pain or bad desk posture. You won't regret it!
Life saver
I have bad arthritis and fibromyalgia which makes sitting for long periods of time almost unbearable. Every five minutes I needed to switch up how I was sitting in the chair. Now I can sit for hours with absolutely no discomfort at all. I even bought a second set for my dad who also has arthritis and fibromyalgia and he loves it too. BONUS: my cat never once got in my chair but now that the cushions are there it's both a fight and a race to sit in it. He almost always wins. 10/10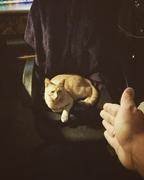 None Better
Can't say enough about this.I originally ordered the top reviewed set from Amazon (starts with an 'A') and found it hard as can be.This set makes 8 hours working from home manageable, as my office chair is the dining room.Can't recommend enough, cant wait to use it in the car on a long trip once there is somewhere tyo go
Great relief
Ordered this to help with an old back injury and a bad hip. Did not disappoint, it improves comfort, reduces pain and allows me to get up faster and with significant less pain. Ordered a second already for the house and will order one for the office if/when it reopens permanently.
Don't wait, just buy it!
I regret not having gotten this sooner. I kept holding off, and my back kept pinching and hurting all over. It got so bad, it started to affect my evening walks. I practically ran to the door when I found it it had been delivered. It wasn't instantaneous, but I could definitely feel the difference after the first day, and my back was no longer pinching after my first week of using it. It has definitely made a world of difference.
Immediate Relief!
When I received this product, I unboxed it and began using it right away. I have to say, the pain and pressure on my tailbone was immediately gone. Not 1 minute, not 5 minutes, it was immediately gone. Since the few days that I have been using it, I have sat on it literally all day (thanks to coronavirus) and it has held up. So if you're worried about whether it'll hold up for 8-10 hours straight, don't because it will. Since I have had this product for only a few days, if anything changes, I will edit this review. Also, there is a lifetime warranty on this product (upon registration).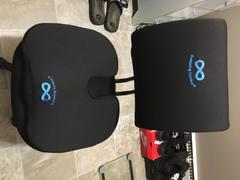 10/07/2019
Auntie M.

United States
Wonderful product!
My lower spine & sciatica issues are nonexistent since using this product. Although l love my 2012 Kia Soul it's become quite uncomfortable in the 7 years I've had it but don't want a car payment, so I've been searching for a solution. This is it! I'll be driving my vehicle for another 7 years Lord willing, thanks to Everlasting Comfort!!