Memory Foam Coccyx Seat Cushion for Office Chair
Memory Foam Coccyx Seat Cushion for Office Chair
Get pain relief for your tailbone, legs, hips, and lower back with the soft yet supportive Everlasting Comfort Coccyx Seat Cushion
Details:
The memory foam cushion, u-shaped cutout, and orthopedic doctor recommended design provide pain relief in the legs, butt, tailbone, and lower back. This cushion also promotes proper seating posture for improved circulation. Perfect for those working from home or the office, it's the supportive companion you need for long road trips or flights.
Free Shipping
Lifetime Replacement
Highly Rated
Free Shipping
Get Free Domestic Shipping on All Everlasting
Comfort® Products.
Lifetime Replacement
Everlasting Comfort® Products
come with a Lifetime Replacement Policy.
Highly Rated
As an American brand, we are highly recommended
beyond our borders by health conscious individuals
just like you.
VERSATILE WORK FROM HOME ACCESSORY
LIGHTWEIGHT & PORTABLE
SOFT PLUSH VELOUR COVER
NON-SLIP BOTTOM
EASY TO REMOVE COVER
LIFETIME REPLACEMENT POLICY
100% PREMIUM MEMORY FOAM
ORTHOPEDIC DOCTOR RECOMMENDED DESIGN
BACK, LEG, & HIP PAIN RELIEF
ERGONOMIC U-SHAPED CUTOUT
RESPONDS TO BODY HEAT
MACHINE WASHABLE/DRYER SAFE COVER
Long hours at a desk or in a car takes its toll on your body. Everlasting Comfort has the solution to relieve pain in the legs, butt, back, hips, and lower back. Our seat cushion for office chair is designed to mold to your body and provide soft and comfortable support so you can make it through your day with some energy to spare. As a chair cushion, it minimizes pressure in the lower body's key areas to provide improved circulation and reduces the effects of fatigue. Your suffering can stop here by adding our tailbone seat cushion to your arsenal of ergonomic support products.

As a team of people who spend countless hours at a desk, creating products to improve your well-being, we understand the pains you feel. We build our chair cushions with 100% premium memory foam, which utilizes body heat to soften and mold around your butt and legs. It provides customized support to relieve the worst pains, including sciatica. And the elastic foam bounces back to its original form after each use. Our office chair cushion uses orthopedic doctor recommendations and ergonomic contouring to cradle your lower body and improve support in all directions. The cushion's underside features a non-slip bottom that keeps your memory foam seat cushion in place no matter how often you change your position during the day.

To ensure you're comfortable for a lifetime, we included a plush velour cover that's breathable, machine washable, and dryer safe. Unzip the cover, remove the cushion, and throw it in the washer and dryer. The breathable mesh cover will keep you from experiencing those obnoxious bottom and leg sweats by allowing heat to escape the cushion. Because we meticulously design our seat cushion, we back it with the Everlasting Comfort Lifetime Replacement Policy. If anything happens to your butt pillow, EVER, we will replace it for free. Get your life back by experiencing the pain relief and comfort you deserve with the Everlasting Comfort Coccyx Seat Cushion!
What are the dimensions of the cushion?
The Everlasting Comfort Seat Cushion is 17.5" x 13.5" x 3". Our memory foam seat cushion's versatile design is an ideal fit for most common office chairs, car seats, stadium seats, wheelchairs, airplane seats, etc. Please check our product dimensions to ensure the size fits your needs.
Does it slip when put in an office chair or does the bottom have a non slip surface?
Our cushion comes with a non-slip rubber bottom preventing it from sliding off of most common surfaces.
After sitting in this for a long time (14 hour flight coming up) will it get hot like typical memory foam beds do?
Our memory foam seat cushion is heat responsive and uses the heat of your body to mold perfectly to the shape of your bottom. However, the product will not overheat from extended use.
Can the seat cover be unzipped and washed?
Yes, the Everlasting Comfort Seat Cushion cover is machine washable.
Can you use this cushion in a car?
Absolutely. Our cushions size makes it a perfect driving accessory to relieve pain from long caused by long hours of sitting.
Does it really give a firm support?
The Everlasting Seat Cushion is made of 100% premium quality memory foam pillow, just like the world's leading memory foam manufacturers. And, using heat-responsive technology our advanced foam cushion molds perfectly to the shape of your bottom- guaranteeing custom support, yet retains its shape after each use.
Would this cushion work for someone who weighs 260 lbs?
Yes. It will work for an individual weighing 260 pounds. The memory foam is designed to cradle and provide support that molds to your weight and curvature.
Warranty Information
Everlasting Comfort® products come with our Lifetime Replacement Policy from Upper Echelon Products.
For ANY quality-related issues, we will send you a replacement for free!
Please note that this warranty is not valid unless the item is purchased directly from Everlasting Comfort® and registered under our warranty.
Upon receipt of your purchase, you need to register your product on our website. To register your product, click here.
For any inquiries regarding our warranty or registration, please email support@upperechelonproducts.com with your name and order information (if applicable), and we would be happy to assist you further.
To redeem a replacement under warranty, please email us the following information:
-Order Confirmation/Order ID
-Product Name/Title (in cases of multiple orders)
-Brief description of the issue(s) along with picture(s) of the damage (if applicable)
Disclaimers

The above guarantee is against defects in materials and workmanship. If anything goes wrong with your product, we will send you a replacement for free. The lifetime warranty does not apply to electronic products which come with a 2-year warranty.
Current products with 2-Year Warranty include:
Non-returnable items:
Return Policy
We offer a free 30-day Return Policy for undamaged items. You can return your product for EC-store credit, a different product (Exchange), or a refund to the original payment method.
Refunds or EC-store credit will be processed upon the delivery and processing of the item(s).
For exchanges, we will ship your new item once the original item is received based upon your original exchange request. Exchanges are for products of equal or lesser value.
Please note the following exceptions to our return and exchange policy:
Returned items must be returned in the original packaging
Returned items must have no visible signs of wear or use
Exchange is only 1 item per Order with a product of equal or lesser value. Only rare exceptions will be made to this policy.
Gift Exchanges are only applicable if provided the Order Number as proof of purchase and is applicable for an Exchange of product(s) of equal or lesser value OR applicable for EC-store credit.
Questions? Get in Touch.
To initiate a Return or Exchange, please complete the following steps:
-Contact us by email at support@upperechelonproducts.com with your Order Number and specify the item(s) you wish to Return OR Exchange.
-Print the prepaid USPS Return Label that you will receive from our Customer Support and mail back the item(s) using the prepaid Return Label.
-Refunds or EC-store credit will be processed upon receipt of the item(s). For exchanges, the new item(s) will be shipped upon arrival of the original item(s).
Disclaimers
If wishing to exchange item(s) of greater value than the original item purchased, we will provide EC-store credit which may be applied to the purchase of your new item(s).
Free Shipping
Get Free Domestic Shipping on All Everlasting
Comfort® Products.
Lifetime Replacement
Everlasting Comfort® Products
come with a Lifetime Replacement Policy.
Highly Rated
As an American brand, we are highly recommended
beyond our borders by health conscious individuals
just like you.
ORTHOPEDIC DOCTOR RECOMMENDED DESIGN
BACK, LEG, & HIP PAIN RELIEF
ERGONOMIC U-SHAPED CUTOUT
MACHINE WASHABLE/DRYER SAFE COVER
Designed with Comfort and Pain Relief in Mind
Our mission at Everlasting Comfort is to provide you with products that enhance comfort and alleviate pain so you can get back to a happy and healthy life. Our seat cushion will help relieve pressure in critical areas along the legs, thighs, tailbone, hips, and back. And its ergonomic design can go with you anywhere, so you can make any seating surface infinitely more comfortable.
Memory Foam Seat Cushion Overview
100% Pure Memory Foam
Easy To Remove Plush Velour Cover
Ergonomic U-Shaped Cutout
Non-Slip Bottom
Reviews
Customer Reviews
Write a Review
Ask a Question
Tailbone relief at last!
So nice to finally have this. I needed it for my homework station, which is a small area, so I can only fit a dining chair versus a regular office chair with wheels. Unfortunately, the dining chair is not designed for long sitting periods, so this seat cushion fits the bill perfectly! It relieves my tailbone pain and its 2+" thickness also raises me a little higher on the desk for a better ergonomic posture. The bottom material is rubber so it stays in place on my leatherette seat! So glad I got this!
Instant Comfort!! I'm So Happy!
I've been spending more time at home and on my chair/work desk so that means a lot of sitting. Which means my butt has been hurting a lot more sadly. But the moment I sat on this seat cushion, I immediately could tell a BIG difference! I am soooo happy I got this! Total game changer. Super comfortable for sure. Of course, don't forget to get up and stretch/walk around every now and then though! Highly recommended!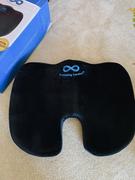 One year in and it's still working great!
I weigh over 300 pounds (I'm a weight lifter, not a sloth), and I sit on this ALL day, every day in my office chair.It's taken a lot of abuse and still holds it's shape and cushioning ability.I'm really amazed at how well this product has held up...and how much it's helped.I have a lot of low back pain and this has helped it tremendously.I recommend this product.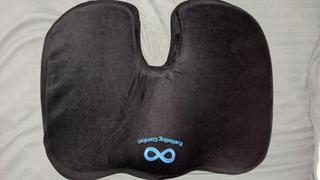 02/29/2020
Juanjuan Z.

United States
This product really help me a lot, it's comfortable and do reduce my back pain.
Because my back pain for a long time and really influence my daily life,but in the same time, i have to study every day, so one of my teacher recommend such product to me, cushion. So i buy one. I have used this product for more than three months, so i can share my feeling to all of you.First of all, it really takes time to revel it's effect, after you use it continuously, you will see the results, i really help me to reduce my back pain. Secondly, it's really comfortable to use this product when i study or work. Thirdly, all in all, it's worthy to own this product in your daily life if your life style just like me, need to sit for long time.And also remind to do exercise.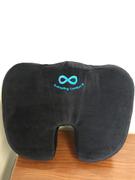 02/23/2020
Geo L.

United States
Luxurious Ortophedic Butt heaven!
Gaming endless hours especially on your days off can really take a toll on your butt, having something super comfy, heat responsive memory foam in a U shaped ergonomic design would have you gaming all day. I am a real big fan of this company , they make realky good quality, comfortable amd awesome memory foam products, and this for me is like the icing on the cake/ cherry on top. This very well made cushion makes back pain a thing of the past. It is very highly recommended, the comfort you would feel might be akin to sitting in a luxurious monarch throne.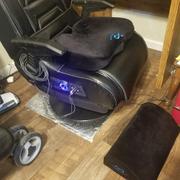 02/19/2020
Julia H.

United States
02/16/2020
Jessica

United States
01/07/2021
Rube O.

United States
Relief
Excellent, really help me get through a situation i was dealing with until it was cure. So thankful for the relief.